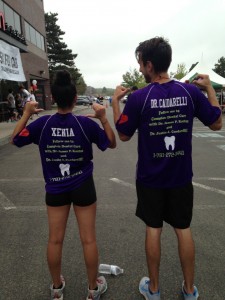 You already know that the team at Complete Dental Care in Burlington is passionate about the health and beauty of your smile — you see that every time you come into our office. Yes, we do love taking care of your teeth, but you should know something else: we also love supporting our Burlington community! It's our chance to see our patient's smiles in action.
This September we were able to partake in to two important events in our community. One's a little bit physical, and one's just plain Yankee Doodle fun. Read on to see what we're excited about this month!

Third Annual 5k for CAD
We put on our running (or walking) shoes and participated in the third annual 5k for CAD, Conquering Aortic Disease! We are very proud of our team, especially and Xenia for placing top 3 for their age groups! We care about this organization and its mission so much. CAD focuses on raising money for prevention of premature deaths resulting from aortic disease, as well as supporting foundations, providing scholarships, serving as an advocate and resource for patients and families and raising awareness surrounding aortic disease. Click here to learn more about this powerful organization's mission — and what else you can do to help.
25th Annual Yankee Doodle Homecoming
The Complete Dental Care team participated in the 25th annual Yankee Doodle Homecoming! We love this Billerica community event and were so excited to celebrate its 25th birthday this year. If you don't know the story behind the Yankee Doodle Hometown, please, read it now! The homecoming was more fun than ever before, if that's possible — a mountain of games, contests and entertainment the whole family loved. Click here for a full list of events. We can't wait to participate next year!