Veneers – Burlington, MA
Discover Your Smile's
True Potential

Do you cringe when you see photos of yourself and notice your teeth? If your smile is marred by discoloration, cracks, chips, or minor misalignment, visit Dr. Kostas for a cosmetic consultation. After he examines your mouth and talks to you about your smile goals, he may recommend that you receive porcelain veneers in Burlington, MA. This remarkable treatment can totally transform your teeth in as little as two appointments in our dental office!
Why Choose Complete Dental Care for Porcelain Veneers?
State-of-the-Art Treatment Planning Technology
Three Decades of Comprehensive Quality Dentistry
Caring, Compassionate, Qualified Dentist and Team
What Are Porcelain Veneers?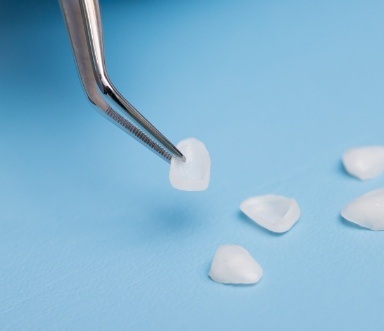 Porcelain veneers are ultra-thin pieces of dental porcelain that are custom crafted to fit over your teeth. They can thus reshape broken teeth, creating a more symmetrical smile. They can also disguise small gaps between the teeth and make even the most severe discoloration disappear. Some patients receive just one veneers to makeover a particularly unattractive tooth, while others opt for a whole set of veneers to achieve truly dramatic and stunning results.
What Are the Benefits of Porcelain Veneers?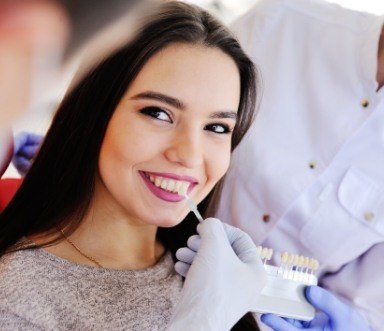 Some of the most outstanding benefits of porcelain veneers include:
Natural appearance. Dental porcelain closely resembles the look and feel of natural teeth, and Dr. Kostas, your dentist in Burlington, will design your veneers in a way that complements your natural bite and facial structure. You won't have to worry that your new smile will seem fake or overdone.
Stain resistance. Porcelain is nonporous, which means that it doesn't discolor as easily as natural tooth enamel.
Veneers may last for 10 – 15 years or longer before they need to be replaced.
Easy care. Maintaining veneers is easy and is unlikely to require you to make any big changes to your daily routine.
What Is the Process for Placing Porcelain Veneers?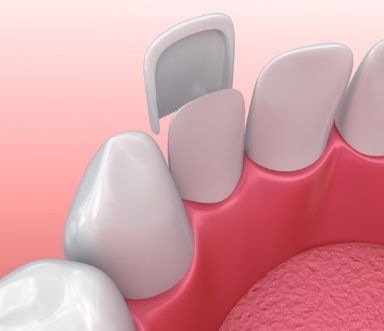 First, Dr. Kostas will make sure your teeth and gums are healthy enough to undergo cosmetic treatment. Then, Dr. Kostas will prepare your teeth to receive the veneers by removing a sliver of enamel from them. This step is to ensure that your new smile doesn't look bulky. He'll then take detailed impressions of your teeth, which a laboratory will use to create your permanent veneers.
You'll wear a temporary veneer while your permanent ones are being created. Once they're ready, you'll return to our dental office. Dr. Kostas will verify that the veneers are a perfect fit for your smile before he attaches them to your teeth.
How Much Do Porcelain Veneers Cost?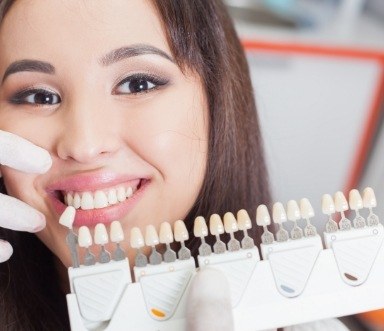 The cost of your new look will depend on various factors, including the number of veneers you're receiving. During your consultation, you'll receive an estimate for the price of your procedure. Most people who invest in porcelain veneers have no regrets about their decision! They are a worthwhile investment that will provide you with years of confident, radiant smiles.
Porcelain Veneers Frequently Asked Questions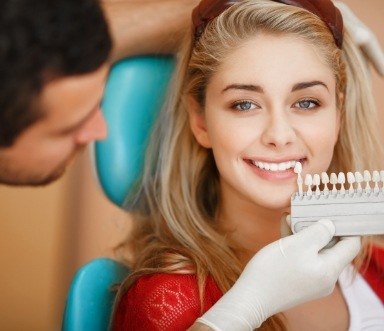 When it comes to transforming imperfect teeth, there's no better way to kill two birds with one stone than veneers in Burlington. However, our team still wants you to feel fully confident in your decision to give your smile a makeover. Dr. Kostas will gladly address all of your concerns during a consultation, but until then, feel free to include this list of the answers to some of the questions about veneers that our team members are asked the most often.
Are Porcelain Veneers Permanent?
If you're considering veneers, it's important to understand that the treatment process is irreversible. We have to remove a sliver of enamel from the teeth that will receive the veneers. Enamel cannot grow back after it has been lost, which means that those teeth will always need some sort of restoration for protection. Fortunately, you can expect your veneers to last for quite some time! On average, veneers last for about 15 years before they have to be replaced.
What Happens to the Teeth Under Porcelain Veneers?
The veneers themselves won't actually damage your teeth in any way. Only a very small amount of enamel is removed, and the material that bonds your veneer to your tooth is 100% safe. Since the veneer completely covers the enamel, the treatment neither increases nor decreases the risk of cavities. That said, tooth decay is one of the most common reasons why veneers might fail, as it can leave the underlying tooth unable to support the veneer. To keep your teeth strong, you'll need to take measures you should already be doing, such as brushing twice daily, flossing at least a once, attending routine dental checkups, and limiting sugary foods.
How Many Porcelain Veneers Will I Need?
Because each veneer is personalized to cover the surface of one tooth, the exact number you'll need depends on how many teeth you want to fix. Some patients only get one veneer to correct a single flawed tooth, but we typically suggest getting an even number of veneers – like the front two, four, six, or eight teeth that are visible when you smile – for a more symmetrical appearance. As an experienced cosmetic dentist in Burlington, you can trust Dr. Kostas to recommend the ideal number of veneers you need to achieve an effortlessly confident smile.
Do Porcelain Veneers Feel Like Real Teeth?
Veneers are made from dental porcelain, a material that is not only lifelike and durable, but also smooth enough to not irritate any of the soft tissues in your mouth, such as your gums. Your veneers will also look natural in the line of your smile thanks to the tiny amount of enamel we removed. While some patients experience minor sensitivity for a couple of days after receiving their veneers, most people are happy to report that their veneers feel perfectly natural within their mouth.