All-on-4 Dental Implants – Burlington, MA
Quickly Restore Your Smile
and Confidence

Losing a single tooth is devastating enough, but in many cases, it's often followed by more extensive tooth loss. At some point, you might require dentures to perform basic tasks such as eating, speaking, and smiling. If you don't want to worry about your new teeth slipping out of place, then it's highly recommended that you get dentures that are anchored to dental implants. If you schedule an implant consultation with Dr. Kostas by calling our dental office, you can learn more about state-of-the-art All-on-4 dental implants in Burlington, MA for securing and stabalizing dentures.
How Do All-on-4 Dental Implants Work?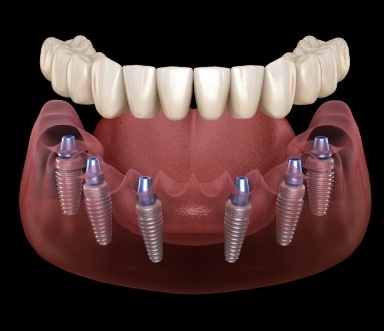 Like with traditional implant dentures, All-on-4 implants are surgically placed in the jaw so that dentures can be snapped on to them. Implants serve the same functions as tooth roots, meaning they hold your teeth in place and stimulate the jawbone so that it doesn't break down. They help prevent the movement and slippage that can occur when traditional dentures don't fit properly.
Am I a Candidate for All-on-4 Dental Implants?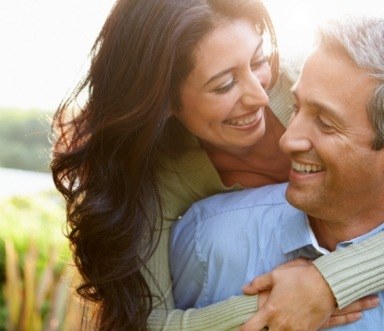 The ideal candidate for All-on-4 dental implants:
Is already missing most or all of their teeth or expects to have their teeth extracted in the near future.
Has a healthy mouth that is free of gum disease.
Has a sufficient amount of bone tissue in specific parts of the jaw to support and join with the implants.
Dr. Kostas can determine whether the treatment is right for you during your initial consultation by performing a thorough examination and taking X-rays.
What are the Benefits of All-on-4 Dental Implants?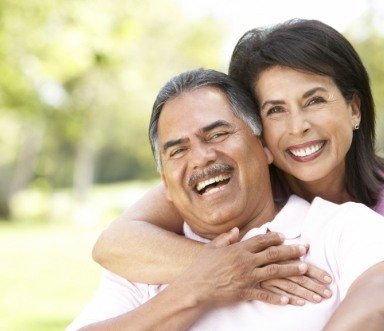 Stability: Implant dentures stay firmly in place, making it easier to chew tough foods and speak with confidence.
Longevity: Implants can often stay in your mouth for a lifetime without needing to be replaced.
Improved Oral Health: Your dental implants will help keep your jawbone stimulated in order to promote growth and regeneration.
All-on-4 vs. Traditional Dental Implants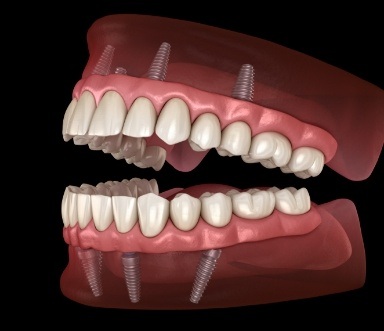 There are many advantages to using the All-on-4 technique instead of a traditional dental implant procedure. First of all, it keeps the number of implants to a minimum, making the treatment easier and shortening recovery times. As a result of fewer implants and appointments being required, the cost of the treatment is lower. Also, there are many instances where All-on-4 dental implants are able to support temporary dentures right away. In contrast, traditional implants may not be ready to support dentures for several months until your mouth has fully healed.