Dental Implant-Retained Dentures – Burlington, MA
Giving Your Smile Complete
Stability & Comfort

Dental implants in Burlington provide unmatched stability and support for replacement teeth. If you have lost a significant number of your pearly whites, you may feel like all hope is lost for your smile -- but implant dentistry can rescue it beautifully. An implant denture looks, feels, and functions just like your natural teeth, giving your smile complete stability and comfort. Keep reading or give us a call to learn more about how dental implant-retained dentures in Burlington, MA work, and whether or not this solution is right for you. You deserve to enjoy all the benefits of a beautiful tooth replacement.
What Are Dental Implant-Retained Dentures?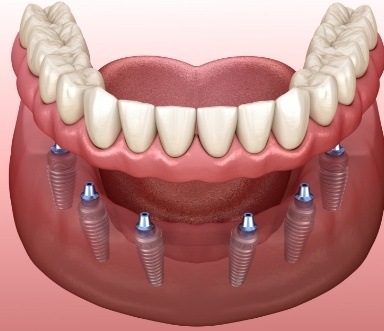 Dental implants are small posts that can be placed beneath the gumline to act as prosthetic tooth roots. When several teeth have been lost, an individual post is not required for each missing crown. Rather, Dr. Kostas can put together a strategic treatment plan to provide maximum stability for a full or partial denture using as few dental implants as possible.
An implant denture can be fixed or removable depending on your needs and preference.
Fixed/Permanent Dental Implant-Retained Dentures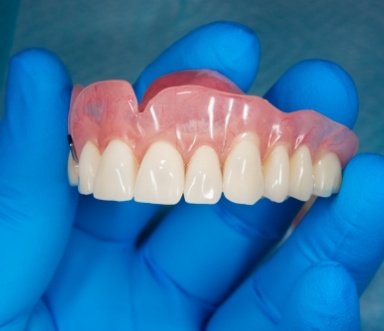 A fixed implant denture is designed to stay securely in place all day, every day. There's no need to remove your dentures to eat or sleep, and you'll brush and floss them just like natural teeth. They will only be removed by your dentist.
Removable Dental Implant-Retained Dentures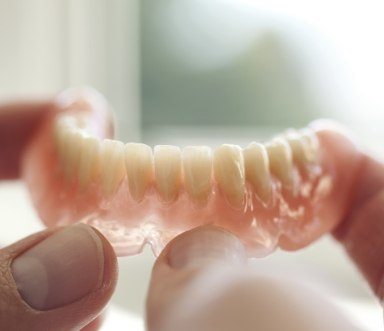 Removable dentures snap onto and off of dental implants, giving you all the familiarities of your traditional dentures alongside the added benefits of dental implants. You'll remove these dentures for cleaning every night, but their strong foundation means you'll be able to eat, talk, and laugh without any embarrassing slippage.
The Dental Implant-Retained Denture Procedure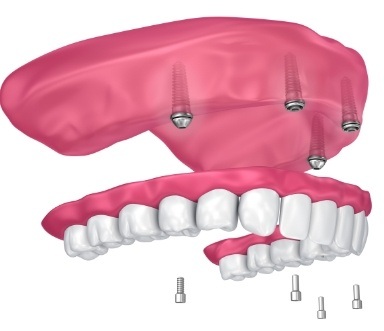 After a treatment plan has been put in place, your dentist in Burlington will surgically place the dental implant posts during an oral procedure. We will use anesthesia and sedation as needed to ensure that you remain completely comfortable and at-ease throughout the process. After the dental implants have been placed, recovery begins -- a process that usually requires 4 to 6 months. During this time, bone tissue grows around the implant posts so that they become one with your jaw. A temporary tooth replacement will be used to help you eat, speak, and smile with confidence until the dental implants can be restored with your implant denture.
Am I a Candidate for Dental Implant-Retained Dentures?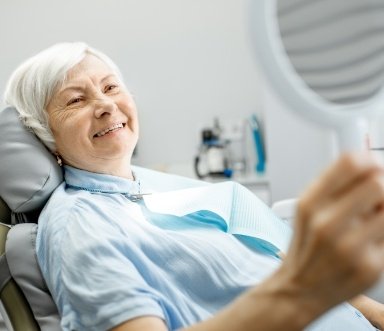 Many adult patients who have lost teeth or who are on the brink of tooth extraction can benefit from dental implants. You should be in good oral and overall health in order to safely undergo the dental implant procedure. The only way to know for sure whether or not you can have your teeth replaced with comprehensive dental implants is to schedule an appointment with our dental office. When you do, Dr. Kostas will evaluate the extent of your tooth loss, discuss your health, lifestyle, and smile goals, and determine the best method for completing your smile.
Benefits of Combining Dentures & Dental Implants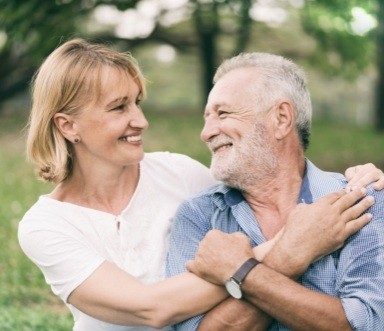 Despite significant improvements in traditional removable dentures over the last few decades, patients who are missing several teeth may struggle to find a secure fit and a comfortable tooth replacement option. Traditional dentures may slip or slide around without the stability of dental implant posts. A secure smile is the most significant benefit of combining dentures and dental implants -- and there are more:
Dental implants promote better oral and overall health
Your jawbone will be protected from deterioration
An implant denture looks and feels more natural
When cared for properly, dental implants can last a lifetime
The denture will require fewer replacements than one that is not supported by dental implants, which can save you a tremendous amount of money