Advanced Dental Services & Technology – Burlington, MA
Modern, Superior Quality
for Excellent Care

At Complete Dental Care, we pride ourselves on utilizing innovative dentistry techniques and technologies that make dental care more comfortable, convenient, and effective for all of our patients. Drs. James Kostas and the whole team work hard to stay up to date on all the latest advances, so we know our team delivers the best treatment options for every oral health concern. Don't hesitate to call our dental office if you have questions about dental technology or would like to schedule an appointment.
Intraoral Photography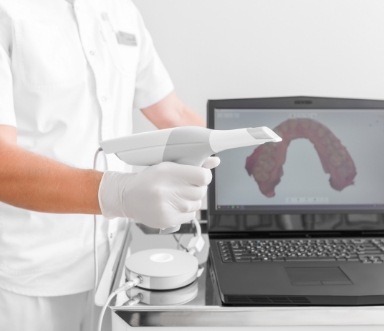 Intraoral photography allows our doctors to show patients exactly what they see. This is an indispensable part of every dental checkup, treatment planning, and preparation for complex procedures because it makes it easy for patients to clearly see and understand their oral health issues or dental damage and how any number of treatment options will be utilized to correct the area we're concerned with. This technology allows us to make patients feel like true partners in determining the best treatment for their unique needs and desires. Ask us about our cosmetic pretreatment smile simulation that will show you a solution to your specific concern.
Digital X-Rays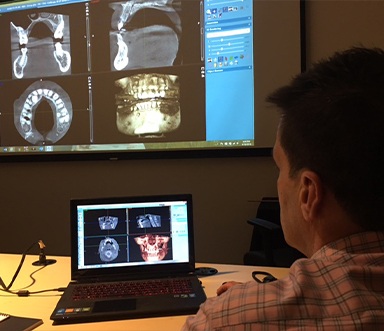 Digital radiography (x-rays) offers our patients a number of benefits over their traditional counterparts including the following:
Quick, easy, and comfortable to capture
Higher definition images improve dentists' abilities to diagnose in early stages
Expose patients to 40% less radiation
Do not require hazardous chemicals for development
Immediately viewable on any computer
Immediately available for dental labs, specialists, and insurance providers
Quick and easy to compare between appointments for precise tracking of any oral health concerns
CBCT/Cone Beam Scanner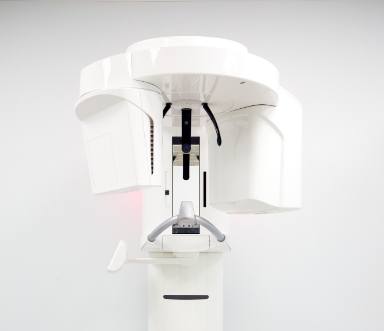 While digital x-rays offer us clear images of specific areas of patients' smiles, the state-of-the-art CBCT/cone beam scanner provides a 3D complete picture of the whole smile, showing how teeth fit together and how the jaw moves connected to the skull bone. These 3D images are essential to plan more extensive treatments including dental implant placement and restoration, orthodontics, and effective root canal therapy. These scans show us any underlying developmental concerns, decay, or damage, and how these issues are affecting a patients' full smile.
Soft Tissue Laser Dentistry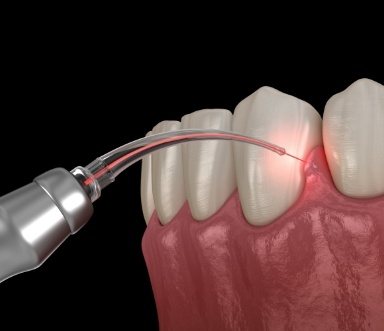 Traditionally, soft tissue surgeries would have been completed using scalpels and sutures (stitches). While this allowed us to effectively treat a number of oral health issues including gum disease, the procedures and recovery time could be uncomfortable for patients. To reduce treatment time and bleeding during procedures and significantly improve healing time and comfort, we may recommend soft tissue laser dentistry instead. Lasers allow us to simultaneously remove infected, damaged, or excess gum tissues while cauterizing the treatment site resulting in less bleeding and faster healing times.
CEREC® One-Visit Dentistry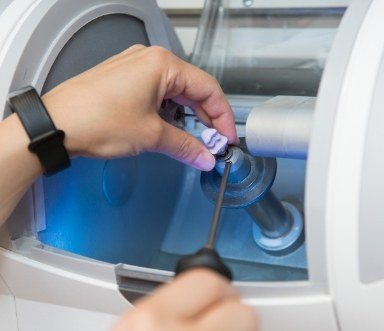 Dental crowns can be completed in just one visit to the dental office thanks to CEREC®, or chairside economical restoration of esthetic ceramics. It's a tool that uses CAD/CAM (computer-aided design and manufacturing) technology so your dentist can plan and manufacture a dental crown from the comfort of our dental office. Digital scans of the prepared tooth are transmitted to the CEREC® software, where your dentist sketches an electronic blueprint of the crown. Then, the restoration is milled from a single block of porcelain in a matter of minutes. CEREC® crowns are sturdy and blend perfectly with your surrounding tooth enamel, for a flawless smile that's healthy as can be.