Dental Implants – Burlington, MA
Rebuild Your Beautiful Smile
with a Comprehensive Solution

Here at Complete Dental Care, Dr. James P. Kostas understands how devastating life can be when you don't have all of your teeth. While dentures and dental bridges look more lifelike than ever before, they don't quite feel like your original pearly whites, but dental implants do. As the only option that recreates the entire structure of missing teeth, dental implants in Burlington improve your appearance, prevent bone loss in the jaw, and help you maintain great oral health. Contact us today to learn more about how dental implants from our Burlington, MA dentist can change your life!
Why Choose Complete Dental Care for Dental Implants?
Dental Implants Placed & Restored in One Place
Fellow of the Academy of General Dentistry & the American Dental Implant Association
Plenty of Flexible Financing Options Available
What are Dental Implants?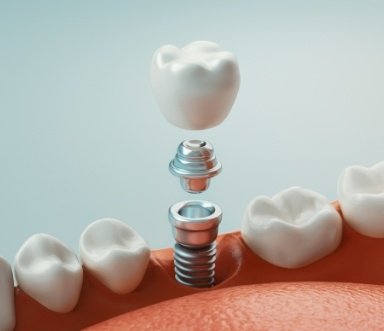 A dental implant is a tiny titanium post that is inserted in the gums in the area where the missing tooth's root structure was. Once placed, the post naturally fuses with the jawbone in a process known as osseointegration. After the implant is secure several months later, a metal abutment connector is placed on top, allowing us to secure your custom dental crown, bridge, or denture into your smile.
For most patients, dental implants are the best way to replace missing teeth. They stay firmly anchored in the jaw, preventing the slipping that notoriously occurs with traditional dentures. They replenish more chewing power than dentures and bridges, letting you eat all of your favorite foods with ease. Best of all, their foundation in the jaw allows them to last for decades, possibly even a lifetime. This makes them the most cost-effective tooth loss solution in the long run!
The 4-Step Dental Implant Process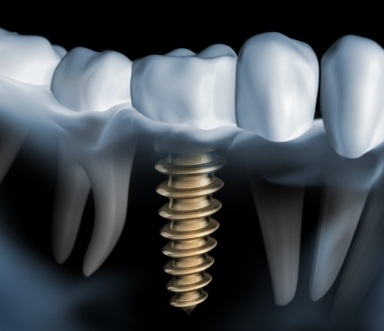 As a Fellow of the American Dental Implant Association, Dr. Kostas can perform every step of the dental implant process right here in our Burlington dental office, making your treatment more convenient and consistent. That said, getting dental implants requires several appointments that can span many months to a year or more, but their potential to last a lifetime makes them well worth the wait. Here are the four basic steps of the dental implant process:
Initial Dental Implant Consultation
During your initial consultation, Dr. Kostas will carefully examine the condition of your oral health, the number of teeth that you're missing, and the density of your jawbone. If he detects any preexisting dental issues, these will need to be treated before you can begin your dental implant surgery. Additionally, you may need bone grafting or other advanced procedures to ensure the success of your dental implants. Next, we will schedule your implant surgery.
Dental Implant Surgery
We have sedation options to keep you relaxed and calm throughout the procedure. After we have made sure that you're numb and comfortable, Dr. Kostas will make small incisions in your gums to access your bone. He will create tiny holes in your jaw for the placement of your dental implants. Once they're in place, you will begin a healing process, called osseointegration, that lasts at least three to four months. The time it takes to recover will vary based on the number of implants that you receive.
Dental Implant Osseointegration & Abutment
While the recovery process for dental implants is longer than other treatments, it's what allows you to enjoy a sturdy and strong smile. Dental implants are made of titanium, which is a biocompatible material that fuses to your jawbone. This osseointegration process helps you enjoy an incredibly lifelike smile because the implants become a permanent part of your body. After your implants have completely healed, we will attach the abutments—connectors for your restorations.
Delivery of Dental Implant Restorations
Once we have taken impressions and images of your smile with your dental implants, we will be able to custom make your restorations. Dr. Kostas will ensure that you're happy with your restorations before permanently mounting them on top of your implants. All that's left to do is to walk out of our dental office with a beautiful, strong, and functional set of teeth.
Benefits of Dental Implants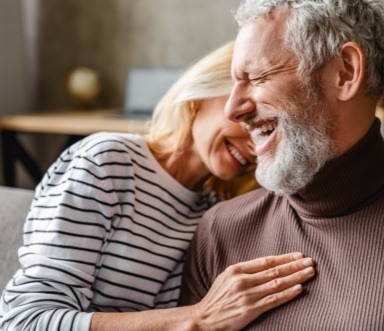 Dr. Kostas will never make any sort of recommendation without considering your unique circumstances first, but if you're eligible for dental implants, chances are he'll bring them up as one of your best options. With the unique placement of dental implants inside the jawbone, it's little wonder why 500,000 new people get implants each year. Check out the benefits that implants can bring you on a day-to-day basis as well as in the long term.
Day-to-Day Benefits
No More Diet Limitations: Are you tired of an incomplete smile or unstable dentures dictating what you can and can't eat? With dental implants, your new teeth will have strength nearly equal to your natural teeth. That means you can continue eating tough foods like steak that would give you trouble with traditional dentures.
Confidence: Having an incomplete smile can make you feel self-conscious, but that won't be a problem once you fill in the gap with a sturdy, stable dental implant. The restoration will look just like your real teeth, so don't hesitate to show the world your new smile!
Easy Maintenance: With dentures, you have to learn all-new hygiene habits and will have to take your teeth out of your mouth to clean them. With dental implants, nothing changes; you can just brush and floss as you always have.
No Slipping: Once you upgrade from traditional dentures to implant dentures, the inconvenience of false teeth that slip will be a thing of the past.
Health Benefits
A Stronger Jawbone: The stimulation of dental implants encourages the growth of new bone in your jaw, which is necessary to keep it healthy over time. Traditional dentures and bridges do not provide such stimulation. As such, implants are your best option for avoiding bone loss.
No Sensitive Teeth or Sore Gums: Other forms of tooth replacement might involve making changes to existing teeth, causing them to become more sensitive as a result. Meanwhile, traditional dentures can result in gum sores and similar issues. Dental implants avoid both issues; they leave existing teeth alone, and the restorations are supported by implant posts instead of the gums.
Improved Health: Due to the benefits of having new teeth that interface directly with your jawbone and can be brushed normally, dental implants make it easier to maintain excellent oral health and avoid long-term issues.
Long-Term Benefits
Longevity: Dental implants rarely need to be replaced. The average lifespan for an implant post is around 30 years, and some last far longer than that. You could even keep the same implants for the rest of your life.
High Success Rate: Your dental implants are still likely to be in excellent shape even after 10 years provided you take good care of them.
Cost-Effective: Because you're not paying for replacements every few years and are more likely to avoid severe oral health issues, you could end up saving a significant amount of money as a result of choosing dental implants.
Who Dental Implants Can Help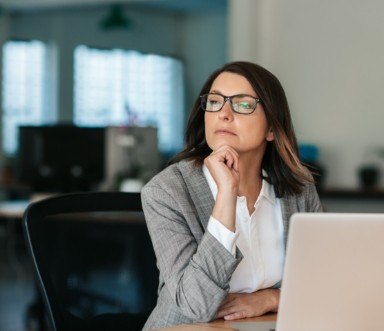 It does not matter how many teeth you have lost; dental implants can replace them all from anywhere in the upper or lower jaw. This makes them one of the most versatile tooth replacement options available in dentistry. With that said, it's important to keep in mind that some people are more eligible to receive dental implants than others. Below, you can read how we address varying levels of tooth loss and what makes someone a good candidate for treatment.
Read More
Who is a Good Candidate for Dental Implants?
Thanks to advancements in dentistry, dental implants are becoming an increasingly common solution for those with missing teeth, regardless of their age or the number of teeth missing. However, there are certain requirements that should be met before treatment is considered. For example, those considering dental implants should have:
Sufficient jawbone tissue
Healthy gum tissue
Good oral and overall health
A strong commitment to at-home oral hygiene
Missing One Tooth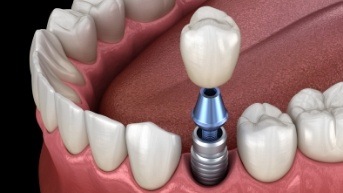 Replacing a single missing tooth with an implant and a dental crown helps to prevent the loss of bone tissue and reduces the risk that you will lose even more teeth. It also works to prevent neighboring teeth from shifting out of place, a common side effect of tooth loss (regardless of how many teeth you are missing).
Missing Multiple Teeth
An implant dental bridge can replace several missing teeth, similar to that of a dental bridge. The main difference between a standard bridge and one retained with dental implants is you won't need to make adjustments to your existing teeth just to hold your tooth replacement in place. That means you can retain as much of your natural enamel as possible.
Missing All Teeth
An implant denture provides superior stability for a complete denture. This is especially important in cases of total tooth loss, as a traditional denture may not provide adequate security. It is not necessary to place an individual implant post for each missing tooth -- instead, the complete denture can be retained on fewer strategically placed posts.
Furthermore, dental implants can be combined with either partial or full dentures as well as customized to be fixed or removable, depending on your needs and preferences.
Learn More About Implant Dentures
All-on-4 Dental Implants
Dental implants are nothing new in dentistry; they've been used for decades now, and as such there have been plenty of opportunities to develop new techniques to make the procedure as efficient and effective as possible. One such innovation is the All-on-4 technique. Four dental implants inserted into the jaw at very specific angles can be used to support a full set of false teeth. Not only does this keep the number of implants used to a minimum, but it often allows you to receive new teeth right away. All-on-4 is also ideal for those with limited bone tissue as this procedure maximizes it even more effectively than a standard implant denture.
Understanding the Cost of Dental Implants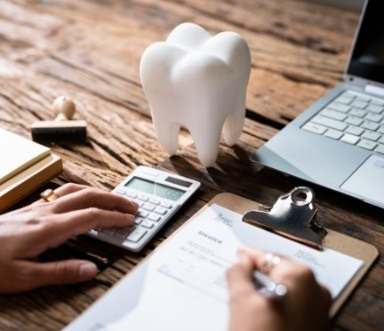 Dental implants have risen in popularity over the past decade and are now the premiere tooth replacement option for eligible candidates. Nothing else offers nearly as many lasting benefits -- and, of course, you get what you pay for when it comes to dental implants. Even though every dental implant treatment has its own unique price, you can typically expect dental implants to cost more than traditional bridges or dentures. However, they can easily end up being the more cost-effective option in the long run! Keep reading to learn more about all the factors that will determine the price of dental implants in Burlington, how to make the procedure more affordable, and how visiting our one-stop-shop for implant dentistry can help you save!
Read More
Preliminary Treatments & Dental Implant Surgery
There are many factors to consider when determining the cost of dental implants. For instance, if you need a preliminary procedure like a bone graft or gum disease treatment, the cost of these services will naturally add to the overall price of dental implants. Then, there's the price of dental placement surgery to take into account, which will vary on the use of sedation and where in the jaw your dental implants are being placed.
Patients who visit Complete Dental Care benefit from the fact that Dr. Kostas and our team offer full-service dental implant care, from initial placement to the final restoration. When you are able to visit just one dental office for all of your dental implant needs, you won't have to worry about driving all over to see multiple specialists for different aspects of the procedure. That can save you a great deal of time, stress, and money -- a great deal all around!
The Parts of Your Dental Implant
Your price estimate will also include factors about your dental implant or implants themselves, such as:
Number of dental implants: The more teeth you're replacing, the pricier your treatment will be, but generally the price per implant goes down the more you receive.
Type of restoration: Dental implants can be covered with custom crowns, bridges, partials, and full dentures, all of which come at their own price points.
Size or material: Zirconia can be used as a metal-free alternative to titanium, and your dental implants may be different lengths depending on where they are in the mouth, which influences cost.
Brand of dental implant: Like cars or cell phones, there are different brands of dental implants. We only use dental implants from trusted companies with reliable, high-quality dental implants. If you'd like to learn more about where yours is coming from, don't hesitate to ask!
How Dental Implants Can Save You Money/ How Dental Implants Pay for Themselves
Even though dental implants are initially more expensive than traditional bridges and dentures, they are often the more cost-effective choice in the long run. Dentures and dental bridges need to be replaced every five to seven years, which can become quite pricey over a lifetime. On the other hand, dental implants may last a lifetime, which can save you thousands of dollars on replacements alone! Plus, dental implants will lower your oral healthcare costs, don't require any special cleaning products, and will give you invaluable improvements for your quality of life.
Does My Dental Insurance Cover Dental Implants?
Typically, dental insurance does not fully cover dental implant treatment. However, your policy may cover parts of it, such as percentages of the restoration, preliminary procedures, and sedation. Our knowledgeable team will ensure that your benefits are being maximized to you pay as little out-of-pocket as possible.
Making Dental Implants Affordable
If you don't have dental insurance or are unhappy with your coverage, we can help you make dental implants affordable with one of the following options:
Flexible financing through CareCredit: Would you be interested in splitting up the cost of your dental implant treatment? Qualifying patients can choose a low- to no-interest payment plan through CareCredit that allows them to get their new smile and pay for it over time in manageable monthly payments.
Savings through our in-house savings plan: With our Plan for Health in-house savings plan, you can enjoy benefits similar to dental insurance without all the frustrating limitation and terminology. This includes 15% off all dental procedures.
We are excited to show you just how affordable your new smile can be with dental implants, so don't hesitate to give us a call!
Advanced Dental Implant Procedures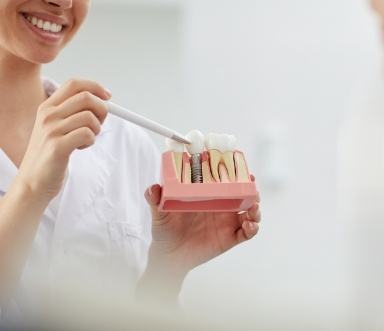 Dental implants can give you a lifetime worth of amazing benefits. However, some patients may require additional treatment or more advanced procedures before they can become a candidate for dental implants. Unlike other dental offices who have to refer out for these services, we offer all of the treatments you need to start your journey toward a full, strong, and beautiful smile. Keep reading to learn more about our advanced dental implant procedures!
Read More
Bone Grafting
In order to successfully place dental implants, patients must have enough jawbone to accommodate them. In certain cases, especially patients who have lost teeth years ago, the jawbone may have lost its strength and density. Thankfully, bone can be grafted onto your jaw to add volume by using a treatment called bone grafting. This extra bone can come from other parts of the body, a bone bank, or even synthetic materials. We will place a thin collagen membrane to prevent the graft from shrinking or growing gum tissue. For some cases, this procedure can be completed on the same day of your dental implant procedure, but this will vary from patient to patient.
When there is a significant portion of bone lost, it's possible to place a block of bone supported by screws. However, this procedure will always require a healing period of a few months before you can get your dental implant surgery in Burlington.
Sinus Lifts
Some patients may require sinus lifts, which add bone to the top arch of your smile and the back parts of your jaw to give it more volume for dental implants. When you lose teeth, it's fairly common for your sinuses to fall into the vacant areas, which makes it hard to successfully place dental implants. However, Dr. Kostas can use a sinus lift to add volume to your jaw, making dental implants and the benefits that come with them possible. After a sinus lift, we must allow at least three to four months for your mouth to recover before we'll schedule your dental implant surgery.
Dental Implant Failure & Salvage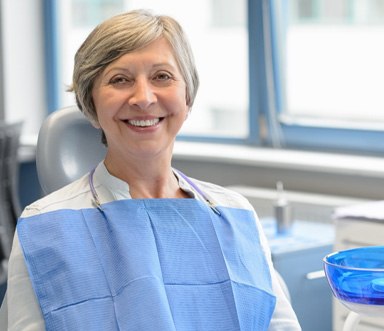 What should you do if your dental implants happen to fail? Step one should always be to call our office to make an appointment. We can check to see if the failure was caused by an infection, physical trauma, or some other type of issue. Once we know what's going on, we can start working on a solution. Our team will do whatever's necessary to keep your restored smile healthy!
Learn More
Dental Implant Post-Op Instructions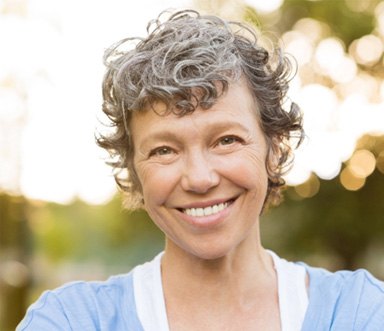 At Complete Dental Care, we're able to complete the entire dental implant process from start to finish right here in our very own practice. You don't have to worry about traveling anywhere else to complete your treatment! Because there's no outside specialist, you can save plenty of time and money rebuilding your smile. Once we finish dental implant placement, we'll provide you with certain guidelines to make your recovery period as smooth as possible. Below, you can get a general idea of what to expect while you heal.
What to Do Directly After Dental Implant Surgery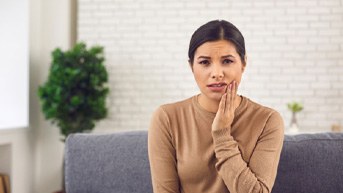 To ensure successful dental implant placement, you must take proper care of the blood clot that forms after your surgery. Avoid touching or disturbing your gums to ensure they heal correctly around the metal post.
Make sure you're following these rules:
Drinking from a straw
Smoking or chewing tobacco
Touching the surgical site with your tongue or fingers
Common Side-Effects When Recovering from Dental Implant Placement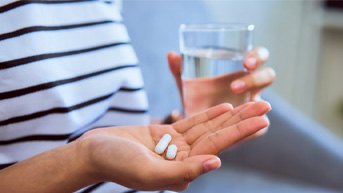 If you've never undergone oral surgery before, you may have difficulty telling which symptoms are normal and which ones are concerning. Gradual and intermittent bleeding, swelling, and general discomfort are common but should fade away over time. Should they persist or worsen, don't hesitate to contact us for help! Until then, here are some ways to manage your side effects:
For bleeding, apply gentle pressure to the area with a clean piece of gauze.
To reduce swelling, use a cold compress on the affected side of your cheek.
You can relieve pain by taking prescribed or over-the-counter pain medications as instructed.
Your Diet After Dental Implant Surgery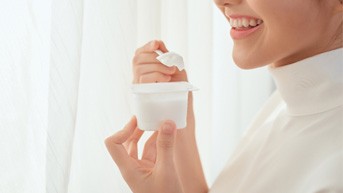 Immediately following dental implant surgery, you should stick to a soft food diet to avoid disturbing the forming blood clot. You can slowly reintegrate solid foods as long as you avoid chewing directly on the surgical site. We recommend stocking up on the following foods for the first few days after your procedure:
Soups and broths (make sure they're not too hot)
Mashed potatoes
Scrambled eggs
Yogurt
Pudding
Pasta
Ice cream
Post-Op Health & Oral Hygiene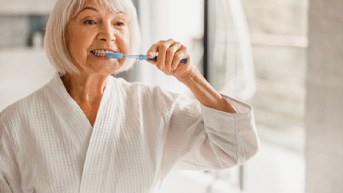 Keeping your mouth clean after your surgery is crucial. Doing so will allow your implants to successfully integrate with your jawbone. Try practicing the following oral health tips:
Brush your teeth as normal the day after your surgery, but you should be careful while cleaning near the surgical site.
Rinse with salt water 2-3 times a day, especially after meals. Instead of spitting out the water, let it pour from your mouth into the sink.
Stay away from mouthwash containing alcohol as it can cause discomfort.
What to Do After Your New Teeth Are Attached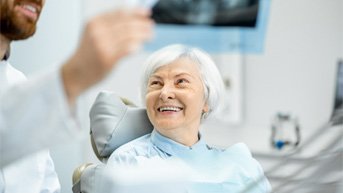 Once you're all healed up and your implants have fused with your jawbone, we'll be able to complete the final step of the process – the placement of your restoration! You might feel sensitivity in your gums, but this can easily be managed with pain medication. If you happen to have bleeding or swelling after we attach your restoration, let us know right away so we can address it. After we've attached your crown, bridge, or denture, you can enjoy your fully restored smile!
Maintaining & Caring for Your Dental Implants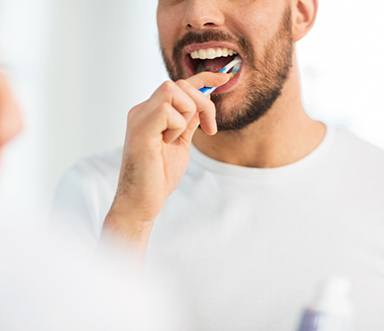 Your dental implants have the potential to serve you well for a lifetime. However, they can only reach that potential if you properly maintain them. Otherwise, they could become victim to damage and infection. How can you keep your new teeth in great shape? Below, you will find some useful tips for dental implant care in Burlington.
Make Oral Hygiene a Priority
Even though dental implants in Burlington cannot develop cavities, the tissue around them is susceptible to infection, so you must do your best to keep harmful bacteria at bay. Here are a few oral hygiene tips to that end:
Thoroughly brush your teeth twice a day with a soft-bristled toothbrush.
Floss once a day (be extra careful around your implants) or use a water flosser.
Use an antibacterial, alcohol-free mouth rinse.
Drink plenty of water.
Eat a Healthy Diet
Dental implants are incredibly strong and durable, so you should feel free to indulge in all of your favorite meals and snacks. However, similar to natural teeth, some foods are better for dental implants than others. Try to limit your intake of extremely hard, sticky, and chewy things. Instead, strive to center your diet on nutritious items that support oral health, such as foods that are rich in calcium and vitamin C.
Break Bad Habits
Here are a few bad habits that can adversely affect dental implants:
Tobacco use. Smoking and chewing tobacco are major risk factors for dental implant failure. If you are struggling to quit, your primary care practitioner may be able to offer useful advice.
Using your teeth as tools. You should never use your natural or prosthetic teeth to open packages.
Chewing on hard objects. Chewing on things like ice or pen caps can break your restorations.
Protect Your Dental Implants
If you tend to grind your teeth at night, you should wear a nightguard to prevent your top and bottom teeth from causing mutual harm and placing excess pressure on your implants.
If you play sports, it is important that you wear a mouthguard to reduce your risk of oral injuries. Over-the-counter mouthguards offer a degree of protection, but custom ones from a dentist tend to be more comfortable and more effective.
Schedule Regular Dental Checkups
You should contact your implant dentist in Burlington to schedule a checkup and cleaning once every six months. During these appointments, we will inspect your mouth and your dental implants for any signs of problems. If we identify any developing issues, we may be able to address them before they become serious. We may also remove your restorations and thoroughly clean around your implant abutments in order to reduce your risk of infection.
Dental Implant Frequently Asked Questions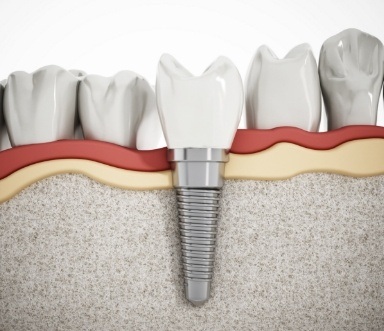 From the process and benefits to the cost, reading through the above information is a great place to start if you are considering dental implants in Burlington. If you are ready to schedule your initial consultation, then don't hesitate to get in touch so our knowledgeable staff can help you do so. On the other hand, if you would like to do a bit more research before then, that's okay too! Keep reading for the answers to a few of the most frequently asked questions we hear from patients.
Read More
How Long Do Dental Implants Last?
One of the valuable benefits of dental implants is their longevity. Unlike other tooth-replacement options, this state-of-the-art smile-rebuilding solution is built to last, yielding a 30+ year lifespan with proper care! With this in mind, it is important to implement a solid at-home oral hygiene routine and visit our dental office every six months for a thorough checkup and cleaning. Avoiding poor dental habits, like smoking and using your teeth as tools, is also crucial to keeping your smile in pristine condition.
Does Getting Dental Implants Hurt?
If you are hesitant to commit to dental implants due to a fear of the procedure being painful, you can rest easy knowing the first step is to numb your mouth with a local anesthetic. As a result, you won't feel any discomfort during the surgery. With that being said, it is normal to experience some soreness for a few days afterward. Fortunately, you can use a cold compress and take prescribed or OTC pain medication as directed to help.
What Can Cause Dental Implants to Fail?
With more than a 95% success rate, dental implants are considered to be incredibly successful. However, it is possible for a complication to arise. Typically, implant failure is a result of peri-implantitis (a form of gum disease) or failed osseointegration (an unsuccessful fusion of the implant post to the bone). Other common culprits include chronic teeth grinding, diabetes, and certain medications. If you experience any abnormal symptoms, like oral pain, inflamed gums, or your implant feels loose, get in touch with your dentist right away.
Will People Be Able to Tell That I Have Dental Implants?
Thankfully, no! Unlike tooth-replacement solutions from years past, dental implants are not obtrusive or obvious in any way. This is largely due to the fact that the size, shape, and shade are custom-tailored to each patient's unique dental needs and smile goals. Additionally, since dental implants are inserted directly into the jawbone, they provide maximum stability, ensuring there is no embarrassing slippage while talking, eating, or laughing. Simply put, with dental implants, you'll have a new and improved smile that looks and feels fantastic.
Is There Anything I Shouldn't Eat with Dental Implants?
Due to their unmatched durability, dental implants don't require you to abide by a long list of dietary restrictions. It is, however, important to remember that (like your natural teeth) your dental implants aren't indestructible. So, it is a good idea to exercise caution when it comes to hard, sticky, and chewy foods. To keep your oral health in pristine condition, you should also consume alcoholic, sugary, and acidic foods in moderation and avoid unhealthy dental habits altogether, like chewing on ice.
Can I take dental implants out?
A dental implant is unlike any other treatment because it replicates the entire tooth, including the root. Your jawbone fuses to the implant post, allowing it to potentially remain in place forever. Therefore, you can't take it out on your own; however, certain implant dentures can be removed for cleaning. Only a dental professional can extract dental implants in Burlington, such as in cases of failure.
Am I too old for dental implants?
Age doesn't matter when it comes to your candidacy for dental implants unless you haven't finished growing. You're never too old for dental implants, but your implant dentist in Burlington will consider your health carefully. Certain age-related health conditions can affect the healing process or make surgery more complicated. That doesn't mean you can't get dental implants. Instead, your implant dentist will review your medical history, including any medications, to create a personalized strategy tailored to your specific needs. Some older patients may require additional procedures, such as bone grafting or periodontal therapy. Don't worry, we'll explain everything during your initial consultation.
What should I do if my dental implant feels loose?
After your jawbone has integrated with the post, your dental implant should never feel loose. If it doesn't feel stable, it can indicate a serious issue, like implant failure. However, there are other possible causes, like a loose restoration. If your implant feels a little wiggly, don't ignore it. Contact our dental office right away for an appointment. We'll get to the root of the problem to restabilize your dental implant.
What are signs of dental implant failure?
The risk of implant failure is rare, less than 5%. Although it's not likely your new smile won't succeed, it's important to watch for any signs of complications, such as redness, tenderness, or pain near the implant. It's best to contact your dentist right away to avoid complete dental implant failure. Quick intervention is key to preventing the issue from worsening to protect your investment.
How long does dental implant surgery take?
Every treatment plan differs, so there is not any way to determine how long your procedure will take without first creating a treatment plan. Typically, it takes 1-2 hours to place a single implant, which includes administering anesthesia and sterilizing the surgical atmosphere. If you need multiple implants, it can take several hours; however, you'll be sedated during the procedure, so time will fly by. We will explain exactly how long you can expect your implant placement surgery to take during your consultation.
Do dental implants feel natural?
After your mouth has healed, your dental implants will feel almost identical to your real teeth. Since the implants don't have any nerve endings, any sensations you experience, such as from cold, will come from the gums surrounding them. Rest assured; your dental implants will feel completely natural, no matter if you're enjoying a hamburger or giving a speech. You can eat, speak, and smile without any concern.