Dental Team – Burlington, MA
Meet Our Friendly
Dental Team
It's always nice to see a familiar, friendly face whenever you visit your dentist. Many of our dental team members have been with Complete Dental Care for more than a decade, and all of them share Dr. Kostas's passion for providing great customer service that gives people plenty of reasons to smile. You can always come to our team with your questions and concerns, but before you schedule a visit, why not get to know them better on this page?
Nancy, Office Manager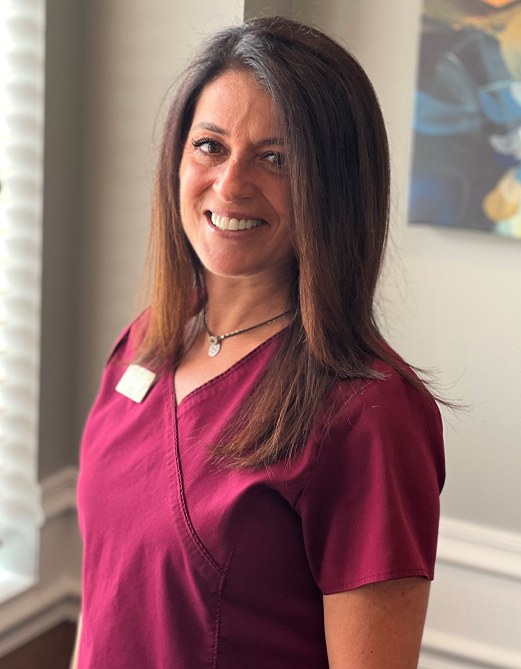 Nancy has been working at Complete Dental Care for seventeen years and counting. She earned her associate degree from Laverne University and has also attended two years of Fortune Management Training, Yankee Dental Conference classes, and other continuing education opportunities on a routine basis. She is certified in CPR and has undergone OSHA training as well. Her favorite part of her work is being able to care for our patients' needs while building trusting relationships with them.
Originally from Burlington, Nancy has three supportive adult children that she couldn't be prouder of. Outside of the dental office, she enjoys traveling, gardening, riding a snowmobile, watching football, and spending time with family. She was previously a language teacher and loves learning languages as well – she speaks three fluently!
Julie, Scheduling Coordinator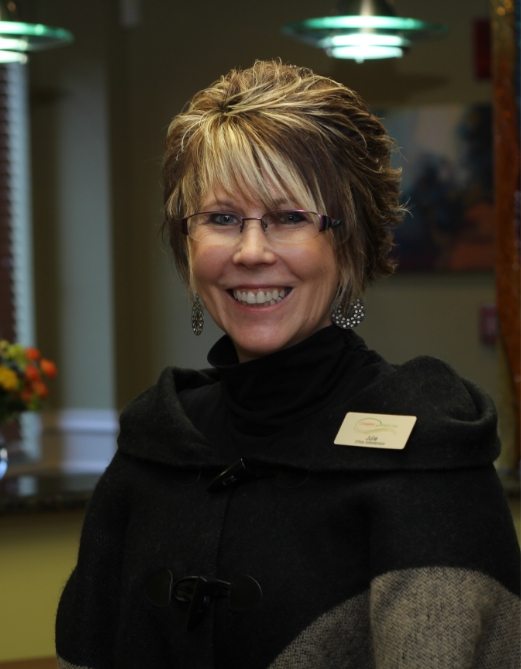 Julie first joined our team 12 years ago. She attended Northern Essex Community College and has taken several continuing education courses as well over the years through Yankee Dental, Massachusetts Dental Society, and other institutions. She is trained in OSHA standards and CPR. What she loves most about her job is interacting with our patients and being able to work in a truly state-of-the-art facility.
Julie is the mother of three children, Shawn, Keiana, and Ben, and she also has a granddaughter named Payton as well as a mini goldendoodle, Maisie. When she isn't busy at the dental office, she enjoys spending time with family and friends and traveling whenever possible. She is a very optimistic person and sees the positive side in all situations!
Jeanette, Dental Assistant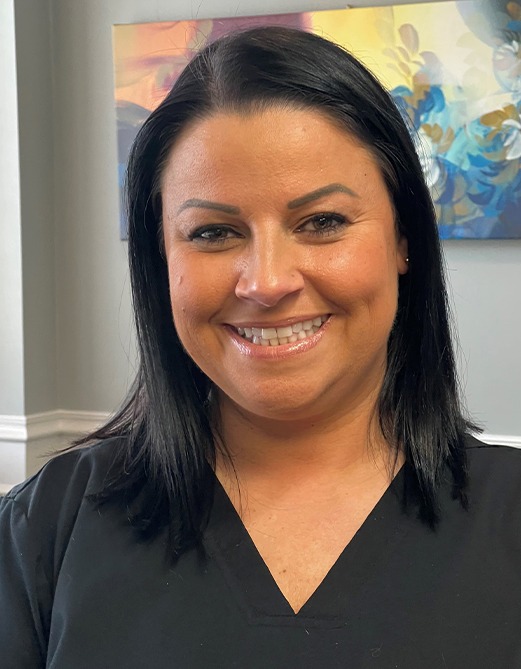 Jeanette has been a part of the dental world for over 20 years, and she likes being a part of our dental office because she knows that our team truly provides the best care possible for each and every patient. She attended the Bryman Institute for her dental education and has certifications in X-rays, CPR, HIPAA, and OSHA.
Most of Jeanette's free time is dedicated to taking care of her teenage son and really cute (but whiny) cat named Lizzie. Her favorite things include funny movies (especially anything with Will Ferrell) and pizza—she could literally live off of it!
Jen, Registered Dental Hygienist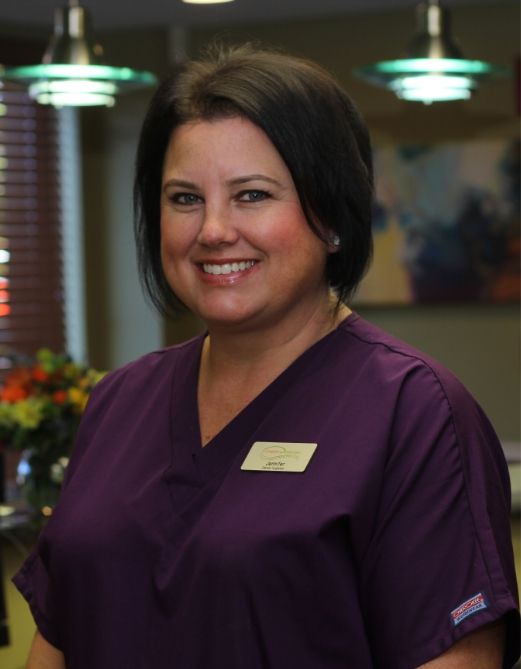 Jen first joined Complete Dental Care sixteen years ago and has twenty-one years of overall dental experience. She is from Billerica and received her certificate in dental hygiene from the Forsyth School of Dental Hygiene and earned her Associate's in Science from Northeastern University. She has her certification in local anesthesia and the use of a diode laser for periodontal treatment. She loves caring for patients, meeting all different types of people, and working with her hands!
Jen and her husband, Jeff, have three children named Ryland, Gavin, and Lyla. Outside of her job, she enjoys spending time with family, taking her kids to play sports, spending summers in New Hampshire on Lake Winnipesaukee, and going on adventures with friends. She actually traveled cross country in an RV for six weeks in 1999, going 11,000 miles. Other than being a mother, it was the biggest adventure of her life.
Justine, Dental Assistant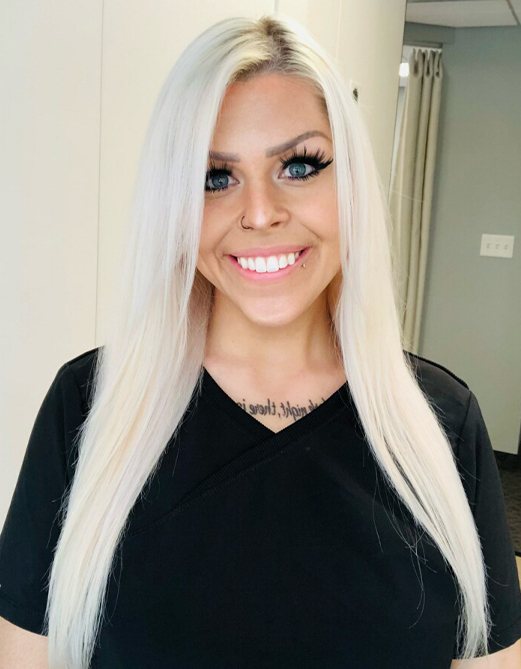 Justine has been with our team since 2020, and she says that the best thing about her job is helping patients get back on track and maintain their oral health. In addition to having certifications in dental X-rays, CPR, HIPAA, and OSHA, she has also completed a lot of training in designing dental crowns.
Justine is the youngest of three children and is a former hairstylist, and she still does hair on the side. When she isn't shopping, going to the beach, or hiking, she likes to spend time with her family (particularly her beautiful niece).
Gilda, Registered Dental Hygienist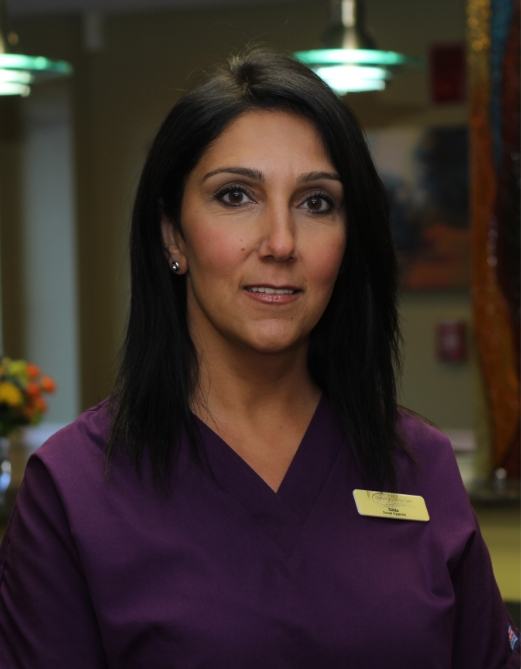 Gilda has been working in dentistry for eighteen years and counting, joining our team eight years ago. She is a member of the American Dental Hygienists' Association and the American Dental Association and is also certified in the use of a diode laser for periodontal treatment. Her hobbies outside of work include dining and traveling.
Gabby, Dental Tech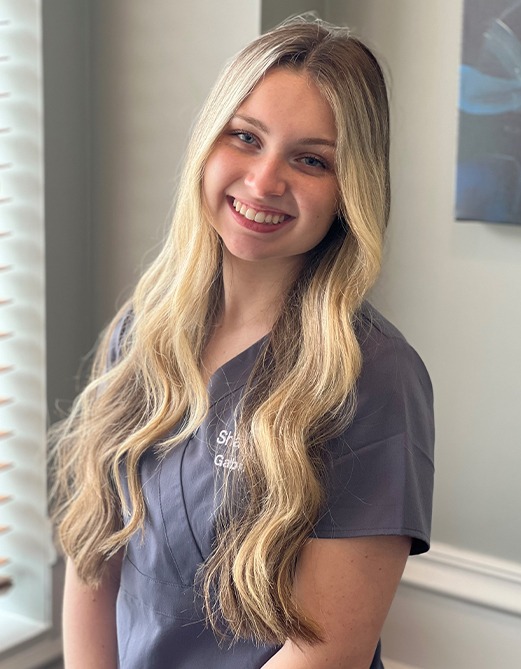 Bio coming soon!