Oral Cancer Screenings – Burlington, MA
A Simple Screening
That Can Save Your Life

It's currently estimated that one American dies from oral cancer every hour, and studies suggest that these numbers are on the rise. That's why Dr. James Kostas conducts oral cancer screenings in our Burlington, MA dental office during each of your preventive dentistry visits. This key component of your biannual dental visits gives us the best chance of spotting the earliest warning signs of mouth cancer, which is essential for successful treatment! Here's what you need to know about this simple screening that can save your life.
Why Choose Complete Dental Care for Oral Cancer Screenings?
Advanced Technology for Quick, Accurate Diagnoses
Over 30 Years of Helping Burlington Families
An Experienced, Analytical Dentist
What Causes Oral Cancer?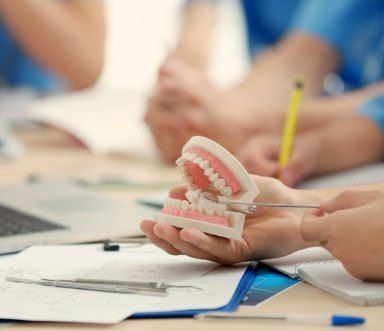 Roughly 53,260 American adults are likely to be diagnosed with mouth cancer this year. While anyone can contract this serious condition, there are a handful of factors that increase your risk of developing it, including:
Tobacco use
Alcohol consumption
Fair skin
HPV
Poor oral hygiene or diet
Prolonged exposure to the sun
Gender (men are more likely to develop oral cancer)
Age (people older than 45 are more likely to develop oral cancer)
What Are the Warning Signs of Oral Cancer?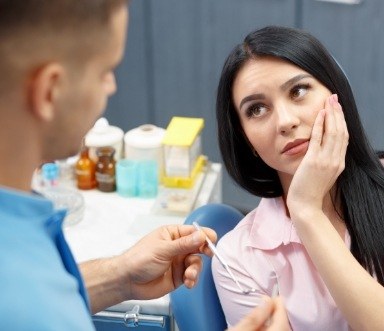 During your dental checkups, Dr. Kostas will carefully inspect your gums, cheeks, tongue, and throat for any abnormalities that may indicate oral cancer. However, we always encourage our patients to keep an eye on their oral health for any unusual symptoms between checkups. Some common warning signs of mouth cancer include:
Difficulty chewing or swallowing.
Bumps, sores, or lesions that haven't healed in several days.
Unusual crusts, patches of discoloration, or a new lump.
Chronic sore throat.
Changes in your voice.
Keep in mind that there are many issues that aren't life-threatening that can cause these symptoms as well, so there's no need to panic if you notice them. Instead, contact us here at Complete Dental Care and we'll schedule an appointment for you to come in right away. Dr. Kostas will carefully examine your mouth and help you get to the bottom of these symptoms.
What Is an Oral Cancer Screening Like?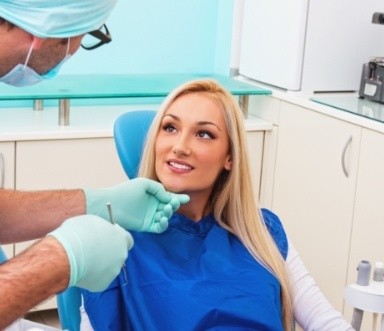 This life-saving screening can easily be conducted at any point during your regular dental checkup. It doesn't require any special preparation on your part or complicated procedures. First, Dr. Kostas will ask you a series of questions about your oral health and any new symptoms you've been experiencing. Then, he will visually and tactilely inspect your mouth, face, neck, and jaw to look for any irregularities or abnormalities. If he finds anything suspicious during your screening, he'll give you personalized guidance on what steps to take for prompt follow-up attention.
While mouth cancer is a devastating disease, it can typically be treated successfully with early detection. In fact, studies demonstrate that when it's treated in its initial stages, the survival rate is between 85-90%! If it's been more than six months since your last oral cancer screening or you have new dental symptoms that are worrying you, don't hesitate to call us today for the smile care you need!