Gum Recontouring – Burlington, MA
Reimagine Your Gums, Show
Your Smile More

As someone who has been providing cosmetic dentistry for many years now, Dr. Kostas understands that the teeth are not the only part of the mouth that makes a smile look beautiful. Gum tissue also plays a role. When it becomes oversized or gets in the way of essential treatments, gum recontouring, shaping and lifting can make all the difference. If you aren't familiar with this type of cosmetic (and sometimes restorative) treatment, he's happy to break it down so you know exactly how it works. To make your smile more visible and beautiful, not gummy, call his dental office to set up an initial consultation to learn more about gum recontouring in Burlington, MA!
Why Choose Complete Dental Care for Gum Recontouring?
Gentle Dental Lasers Reduce Bleeding and Healing Time
Burlington's Hometown Dental Office Since 1992
Dental Insurance Accepted, Financing Available
How Does Gum Reshaping and Recontouring Work?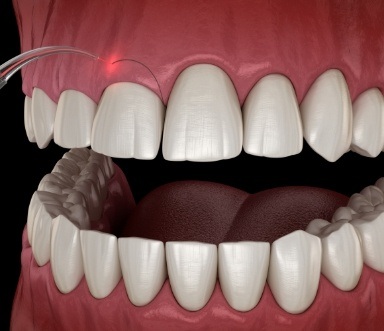 The first step of treatment is performing a detailed exam of your smile and gum tissue. During this exam, Dr. Kostas will be able to hear your concerns directly so he knows what to keep in mind should you decide to pursue treatment. Soon enough, you'll be proudly showing your smile off with confidence!
While other dental offices may use traditional metal dental instruments to perform gum reshaping and recontouring, we make use of a soft tissue laser instead. Not only is this tool extremely precise and reduces the amount of gum tissue unnecessarily removed, but it creates a far more comfortable treatment experience.
Once he's completed removing excess gum tissue from your mouth, you may snack on cool or soft foods to manage any soreness as your gums begin to heal. We'll provide you with detailed instructions on how to take care of your mouth following your appointment.
What Benefits Can Treatment Provide?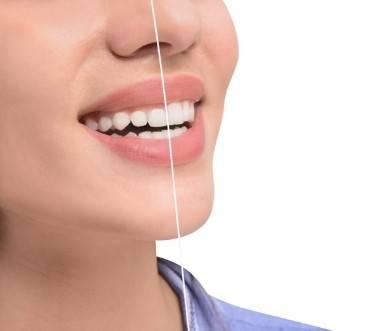 While it's clear that modifying your gum tissue can make your smile more visible and attractive, it's not the only benefit that can come from it. For example:
You Can Continue Your Smile Transformation – Gum reshaping and recontouring is often used as part of a smile makeover plan. The reason treatment is also referred to as crown lengthening is because it can provide more room for teeth to receive certain restorations, including crowns and veneers.
You Can Expect an Efficient and Precise Treatment – This procedure is ideal whether you need to modify tissue near a single tooth or tissue throughout your smile. Most cases can be completed in a single day, and our soft tissue laser ensures only the amount you want to remove is actually done so.
You Can Eliminate Gun Pockets – These small spaces are known for easily collecting bacteria and food debris. When removed, oral care becomes easier at home!
Does Gum Treatment Hurt?
While the soft tissue laser itself can be a bit warm, you shouldn't experience any discomfort during the procedure. Local anesthesia can be used (and typically is when using traditional dental instruments on gum tissue), but we usually don't need to at our dental office because most patients don't need it when using a soft tissue laser. It's worth noting that you may notice a small amount of soreness following your treatment, but this goes away shortly after.