Periodontal Disease Treatment – Burlington, MA
Corrective Gum
Disease Treatment

At our Burlington, MA dental office, our professional dental hygienists perform comfortable periodontal therapy (deep cleaning). Your dental health depends on the robust wellbeing of your gums. Patients with untreated gum disease risk destruction of gums, loss of teeth, weakening jawbone, and facial collapse. There is a well-documented relationship between dental health & overall health, including diabetes, heart attacks, stroke, and low birth weight babies.
Have you seen the yellowish film on your teeth? Well, that's plaque, and it's formed when oral bacteria consume sugars from food and emit acids. These acids are what cause cavities and gum disease. Keeping an oral hygiene routine is vital to removing plaque and preventing tooth decay and periodontal infections. Visiting our Burlington dentist at least twice a year can also ensure your continued good dental health. We can also provide periodontal therapy in Burlington, MA when necessary after gum disease causes damage.
Why Choose Complete Dental Care for Periodontal Disease Treatment?
Soft Tissue Lasers for Quick, Painless Treatments
30 Years of Providing Comprehensive Care
Dental Insurance-Friendly Dental Office
Soft Tissue Laser Therapy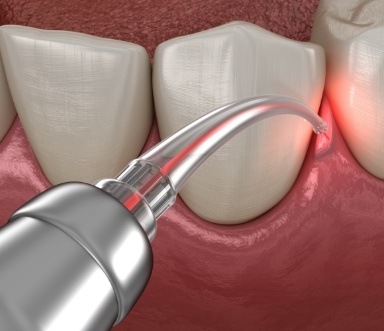 Chances are likely you may have gum disease … even if you don't have any obvious symptoms. More than 80% of Americans have gum disease and need periodontal therapy, but more than half of these patients are undiagnosed. At Complete Dental Care, we stay on the cutting edge of dental technological advances, which is why we incorporate lasers as part of our treatment programs. Lasers are particularly effective at eradicating gum disease. Laser periodontal therapy has several benefits. Patients don't have bleeding or swelling, won't need sutures, and rarely experience discomfort during or after their procedure. We typically perform scaling and root planing, gum tissue removal, and gum grafting as necessary with soft tissue lasers.
Treat Gum Pain & Gum Disease with Deep Cleanings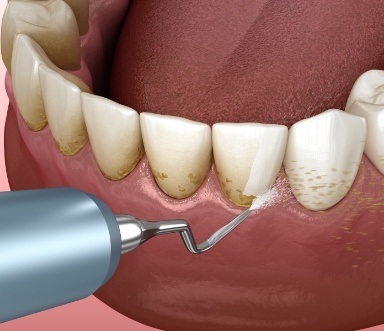 The first step in treating gum disease is typically more frequent professional teeth cleanings performed by our skilled hygienists. Additionally, we may recommend any combination of the following advanced treatment options:
Scaling and root planing – scaling is the systematic removal of damaged gum tissue, plaque, and tartar. This can be done by using a scalpel and metal scraping tools or with our state-of-the-art soft tissue laser. Root planing is a procedure that smooths the porous root systems of teeth in order to prevent future plaque and tartar buildup and the associated damage to gum tissues. In most cases, these two procedures are completed at the same time, and may or may not be followed with antibiotic therapy.
Antibiotic treatments – topical antibiotics are beneficial in preventing re-infection of the gums because bacteria are the initial cause of gum disease. The plaque produced as a waste product of bacteria leads to tooth decay and gum disease. If we reduce the number of bacteria in patients' mouths, the amount of plaque production is limited, which may significantly reduce the risk for ongoing periodontal disease.
Ongoing at-home and in-office care – following necessary treatments for gum disease and its resulting damage, the patients' work is not done. We will partner with patients to develop a personalized home care routine that prevents additional gum disease damage. Additionally, we will likely advise these patients to continue more frequent professional teeth cleanings in order to maintain their oral health.
Side Effects & Warning Signs of Gum Disease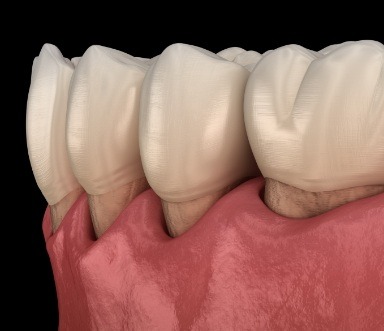 Advanced gum disease (periodontitis) can cause multiple issues for your teeth and gums—and for your systemic health. At Complete Dental Care in Burlington, we want to return you to optimum oral health with periodontal therapy. It's so important to receive gum disease treatments! Periodontal infections have been linked to ailments that affect your heart, brain, and lungs. The American Academy of Periodontology has cited research that shows associations between gum disease and respiratory illness, heart disease, strokes, rheumatoid arthritis, diabetes, and pancreatic cancer.
Gum disease is the number one reason that American adults experience tooth loss. That's just another reason that periodontal therapy is so important! Gum disease often manifests with bleeding, swelling, redness, or pockets forming around teeth. Pus may exude from these pockets, and teeth may loosen or shift. Since gum disease negatively impacts your health, ignoring the symptoms or letting dental fears prevent you from treatment can lead to larger, more detrimental health concerns. At Complete Dental Care, we offer comfortable periodontal therapy, and we'll do everything we can to ensure you feel completely relaxed—and ready for getting healthy gums again!
In our Burlington dental office, the professional team at Complete Dental Care can treat your gum disease in a comfortable setting. Our laser periodontal therapy is safe and effective. Periodontal therapy heals your gums, removes dangerous bacteria, and protects your oral health.