Dental Implant-Retained Dental Crowns & Bridges – Burlington, MA
Seamlessly Replace
Multiple Teeth

If you are missing multiple teeth, it is important that you get them replaced. Not only will filling in the gap improve your smile's appearance, but it will also enhance your ability to chew food. You'll also be able to prevent dental drift, thereby protecting yourself from painful misalignment and TMJ problems. Modern dentistry offers a number of ways to replace multiple teeth, including both a traditional fixed bridge or an implant-retained bridge. Of these two treatments, an implant-retained prosthetic provides superior functionality and longevity. Keep reading to learn more about dental implant-retained dental crowns and bridges in our Burlington, MA dental office.
Why Choose Complete Dental Care for Dental Implant-Retained Dental Crowns & Bridges?
Fellowship with the American Dental Implant Association
Dental Implants Placed and Restored in One Location
Caring, Compassionate, Qualified Dental Team
What Is a Dental Implant-Retained Bridge?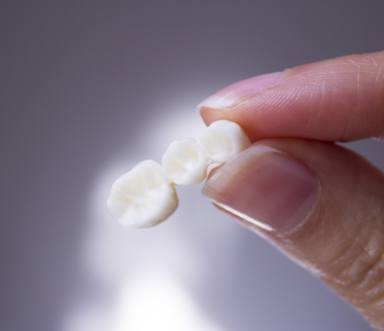 A traditional fixed bridge, sometimes called crown and bridgework, has two crowns that fit over the teeth that are next to the empty space in the mouth. Between one and three artificial teeth (called pontics) fit between the crowns, thus "bridging" the gap.
An implant-retained bridge, on the other hand, does not require the support of the adjacent teeth. Rather, it gains all of its strength from dental implants in Burlington that are placed beneath the gum line at opposite ends of the gap. Crowns go on to of the implants, and pontics span the space between them. Typically, the crowns and pontics are made of dental porcelain or acrylic, both of which closely resemble the look of natural tooth enamel. An implant-retained bridge can replace several missing teeth in a row.
Benefits of Dental Implant-Retained Multi-Teeth Replacement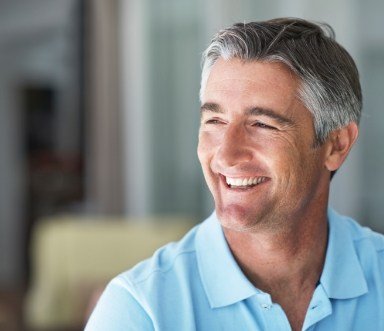 A traditional fixed bridge is a reliable and natural-looking way to replace multiple teeth. However, we recommend implant-retained multiple tooth implants near Bullard to patients who are candidates for the procedure. We do so for a number of reasons:
Implants provide superior strength and functionality.
Because the implants bond with the jaw, they help to prevent bone deterioration.
Although implants cost more, they last much longer and are thus a better long-term investment than non-implant tooth replacement.
To place a traditional bridge, we must file down the abutment teeth (the teeth next to the gap). Implants don't require this step, enabling us to preserve as much healthy dentition as possible.
The Dental Implant-Retained Bridge Process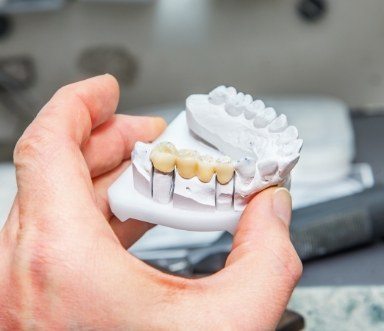 If you are interested in replacing multiple teeth, schedule a consultation with Dr. Kostas. He will evaluate your oral health to determine whether you are a candidate for dental implants. If you have adequate bone density, are free of gum disease, and are committed to excellent oral hygiene, it is likely that you can receive an implant-retained bridge. During the consultation, you can ask any questions you have about dental implants, alternative treatments, and the cost of your procedure.
Following any necessary preliminary work, Dr. Kostas will place the implants beneath the gum line in minimally invasive surgery. Then, you'll go through a healing period of a few months, during which the implants will fuse to the bone around them. When your mouth is ready, Dr. Kostas will design and permanently attach your implant-retained crown and bridgework.
Are you ready to discover if an implant-retained bridge can restore your smile? Contact our team to ask questions about the treatment or schedule a consultation with Dr. Kostas.