Six Month Smiles® Braces – Burlington, MA
Invisible Aligners Straighten
Teeth Quickly

If you want a straighter smile, but you don't want the long-term commitment in both time and money to utilize traditional braces, consider the benefits of Six Month Smiles® braces! In Burlington, MA, Dr. James Kostas offers these "invisible" braces for older teens and adults who want to cosmetically straighten teeth in their "smile zone."
Complete Dental Care offers an ideal cosmetic dentistry option for straightening teeth. Six Month Smiles® is a short-term orthodontic treatment that gives patients better, straighter smiles in six months or less. Six Month Smiles® is a faster, simpler, more attractive choice for optimally moving your front teeth into correct positions. Having crooked teeth isn't just a smile flaw, either. Overlapped and crowded teeth are more likely to trap bacteria and food, increasing your risk of tooth decay and gum disease. Straightening your teeth won't only add beauty to your smile—it will also improve your oral health.
Why Choose Complete Dental Care for Six Month Smiles Braces?
Dentist with Decades of Experience
Modern Dental Office Using the Latest Technology
Orthodontic Treatments Without Brackets and Wires
Six Month Smiles® Quickly Realigns Teeth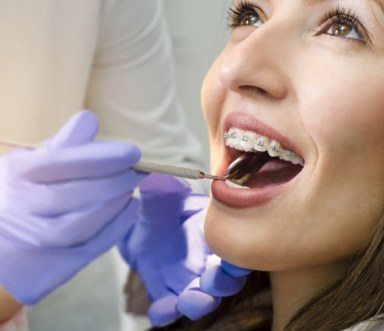 What a difference six months can make with these unique invisible braces! Our Burlington cosmetic dentist offers Six Month Smiles® to patients seeking smile makeovers and better dental health. There are many advantages to this orthodontic system! Six reasons why Six Month Smiles® are a great teeth-straightening option for Burlington patients:
Brackets and wires match the color of your teeth, making the braces appear "invisible."
Low forces gently shift your teeth into optimal alignment.
Six Month Smiles® is more comfortable than traditional orthodontia, which can poke and prod your gums and impact your teeth.
Invisible braces are less likely to irritate your gums or cause root damage.
This short-term orthodontics option usually takes six months or less to straighten your teeth.
Six Month Smiles® is usually a more affordable option than other teeth straightening procedures.
MTM Alignment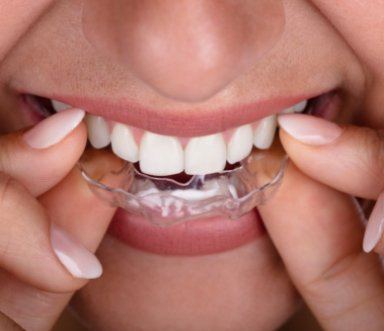 Want to correct unevenly spaced, crowded, or crooked teeth without the hassle of traditional bracket and wire braces? We use the MTM alignment tray orthodontic system to gently shift patients' teeth into their ideal position with completely clear aligners instead of metallic braces. The MTM system takes about a year to complete, and it works by creating a series of alignment trays that each represents one step closer to the desired result. Patients wear each set of aligners for a predetermined time period and exchange them for the next set in the series. Unlike traditional braces that require patients to change their diet and oral hygiene routines, the MTM aligners are removable, so patients can continue to eat all the foods they enjoy and brush and floss as usual.
At Complete Dental Care in Burlington, we are proud to offer this cosmetic teeth-straightening solution for older teens and adults seeking to improve their crooked, overlapped, or crowded teeth. Six Month Smiles® can even help close up awkward-looking gaps! If you're an older teen or an adult who wants to modify your misaligned teeth, then contact Complete Dental Care today. Dr. Kostas and our friendly cosmetic dental team will assess your teeth, discuss your goals, and determine if the Six Month Smiles® invisible braces system will benefit you!
Six Month Smiles® Frequently Asked Questions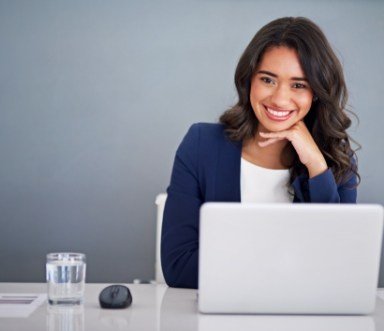 If your smile is less than perfect, you have more options than ever to correct your alignment concerns, like Invisalign in Burlington. Whether clear aligners or brackets and wires, you don't want to spend years wearing braces. You might be a candidate for Six Month Smiles®. Here are the answers to a few of the most common questions our patients ask us about the orthodontic system to help determine if it's the best choice for you.
Read More
Does it really take six months?
No one wants to wear braces for several years, but you won't have to with Six Month Smiles®. Although every case is unique, many patients are finished with their treatment in less than one year. Your cosmetic dentist in Burlington uses the latest digital technology to map the movement of your teeth to create a personalized strategy to improve just those that are visible when smiling. On average, patients are finished with their plan in about 6 months, but various factors influence how long your journey will take, such as your commitment to your treatment plan.
Does Six Month Smiles® hurt?
Unfortunately, no orthodontic system is completely pain-free. It's normal to have some discomfort after first beginning your treatment. You will feel pressure, which might make your teeth sore. Although the tenderness might seem alarming, it's a sign your treatment is already working. You'll get used to the discomfort as you adjust to Six Month Smiles®. You can help manage the sensations using an over-the-counter pain reliever. You can also apply a cold compress to the outside of your mouth or drink ice water to numb the area. Your cosmetic dentist recommends choosing softer foods until after your mouth has adjusted to your treatment.
What happens at the end of my treatment?
As with any orthodontic system, you will need a retainer to maintain your results after reaching your goals. Since your teeth are moved more quickly, following your aftercare instructions is crucial to keep your new smile straight. A retainer is a custom-made device that holds your teeth in their new positions. Rest assured; modern retainers are more comfortable than ever, and there are many discreet options. You'll be required to wear your retainer full time, but your dentist will gradually decrease the amount until it's only needed at night.
Who is a candidate for Six Month Smiles®?
Six Month Smiles® is recommended for teens over 16 and adults who have certain alignment issues. The clear braces are effective in correcting crooked, spaced, or misaligned front teeth. On average, 95% of patients are candidates for the treatment, but you'll still require a thorough consultation with your dentist. Besides evaluating your alignment concerns, they will also assess your oral health. You may need additional treatments before beginning Six Month Smiles®, like periodontal therapy or fillings. Once your smile is healthy, your dentist will create the personalized plan you need to achieve your best smile quickly.