Porcelain Veneers – Burlington, MA
Discover Your Smile's True Potential

Do you cringe when you see photos of yourself and notice your teeth? If your smile is marred by discoloration, cracks, chips, or minor misalignment, visit Dr. Kostas for a cosmetic consultation. After he examines your mouth and talks to you about your smile goals, he may recommend that you receive porcelain veneers in Burlington. This remarkable treatment can totally transform your teeth in as little as two appointments in our office!
What Are Porcelain Veneers?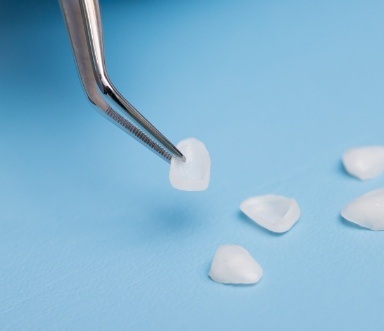 Porcelain veneers are ultra-thin pieces of dental porcelain that are custom-crafted to fit over your teeth. They can thus reshape broken teeth, creating a more symmetrical smile. They can also disguise small gaps between the teeth and make even the most severe discoloration disappear. Some patients receive just one veneers to makeover a particularly unattractive tooth, while others opt for a whole set of veneers to achieve truly dramatic and stunning results.
What Are the Benefits of Porcelain Veneers?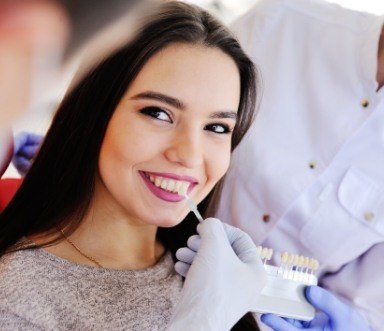 Some of the most outstanding benefits of porcelain veneers include:
Natural appearance. Dental porcelain closely resembles the look and feel of natural teeth, and Dr. Kostas, your dentist in Burlington, will design your veneers in a way that complements your natural bite and facial structure. You won't have to worry that your new smile will seem fake or overdone.
Stain resistance. Porcelain is nonporous, which means that it doesn't discolor as easily as natural tooth enamel.
Veneers may last for 10 – 15 years or longer before they need to be replaced.
Easy care. Maintaining veneers is easy and is unlikely to require you to make any big changes to your daily routine.
What Is the Process for Placing Porcelain Veneers?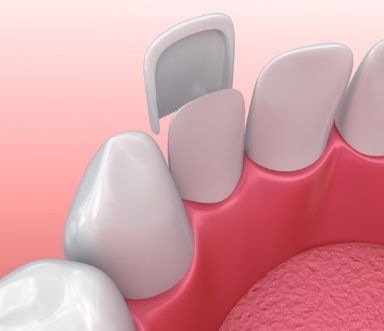 First, Dr. Kostas will make sure your teeth and gums are healthy enough to undergo cosmetic treatment. Then, Dr. Kostas will prepare your teeth to receive the veneers by removing a sliver of enamel from them. This step is to ensure that your new smile doesn't look bulky. He'll then take detailed impressions of your teeth, which a laboratory will use to create your permanent veneers.
You'll wear a temporary veneer while your permanent ones are being created. Once they're ready, you'll return to our office. Dr. Kostas will verify that the veneers are a perfect fit for your smile before he attaches them to your teeth.
How Much Do Porcelain Veneers Cost?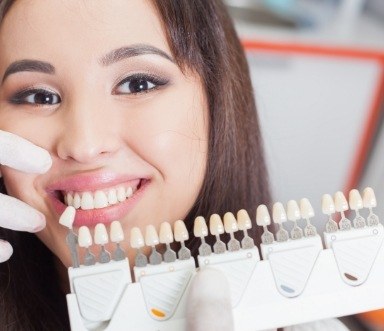 The cost of your new look will depend on various factors, including the number of veneers you're receiving. During your consultation, you'll receive an estimate for the price of your procedure. Most people who invest in porcelain veneers have no regrets about their decision! They are a worthwhile investment that will provide you with years of confident, radiant smiles.