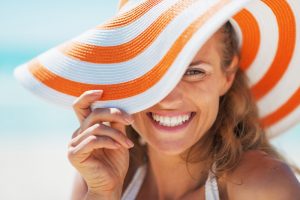 Most people would like to have whiter teeth and a dazzling smile — and professional teeth whitening in Burlington is a great way to do just that. Zoom! Whitening is a popular option, and it can brighten the tooth enamel by up to 8 shades in a single visit. Keep reading to learn more about this treatment and whether or not it's right for your smile.
Why You May Need Teeth Whitening
There are a number of factors that can cause your teeth to look dark or discolored over time. One of the most common is constant exposure to what you eat and drink. People who have a daily cup (or three) of coffee are more likely to have darker tooth enamel than those who don't. Tobacco also speeds up the effect. Genetics play a role in the color of your tooth enamel, too — some people were just born with whiter teeth than others! And, frequently, patients who have had braces want to spruce up the appearance of their smile with a whitening treatment after the brackets and wires are removed.
The Magic behind Zoom! Whitening
There are a number of methods for whitening your teeth, and by far the most effective option is with Zoom! Whitening. This treatment can be completed in a single visit to your dentist's office and can erase even significant stains with a high-powered bleach that is activated under a special UV light.
To brighten your smile with Zoom!, your dentist or hygienist will cover up your lips, gums, tongue, and anything else that isn't your tooth enamel. Then, the special whitening gel is placed on the tooth enamel and activated by light in 3, 15-minute intervals. After the final light application, the treatment is complete — and your teeth are up to 8 shades brighter!
Are You a Good Candidate?
Many patients who wish to undergo teeth whitening can benefit from the Zoom! Whitening treatment. To find out for sure whether or not this is a good option for your smile, schedule an appointment with your cosmetic dentist in Burlington. Patients who are especially prone to tooth sensitivity may need to seek an alternative method for whitening the teeth, as the Zoom! treatment can cause discomfort upon exposure to heat and cold.
Teeth whitening is a great way to achieve a more youthful, vibrant appearance — and your dentist can help you get just that! Don't delay in scheduling a cosmetic consultation to find out whether or not Zoom! is right for your smile.
Meet the Practice
At Complete Dental Care, Dr. James P. Kostas and his team offer excellence in general and cosmetic dentistry for patients of all ages. Right now, they are offering Zoom! Whitening for just $246 after a $50 mail-in rebate. To learn more or to get started with this wonderful treatment, you are invited to contact the office at (781) 272-0441.