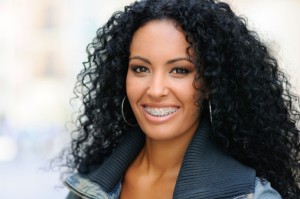 If you've got a smile you're less than proud of, you owe it to yourself to seek a solution. Are your crooked, gapped or otherwise misaligned teeth causing you to cover your mouth when you smile? Do you dread to speak in groups due to your not-so-straight teeth? You don't want to wear metal braces, and we understand. You should know you now have options in invisible braces. Six Month Smiles at Complete Dental Care in Burlington, MA will straighten your teeth, secretly — in six months. Keep reading to learn more about this incredible option in teeth straightening.

Six Month Smiles Straightens Teeth Discretely
Past the age of 13, traditional metal braces aren't so cool anymore. Six Month Smiles helps adults straighten teeth, super-discretely and in just about half a year — how does that sound?
How Six Month Smiles Works
The Six Month Smiles approach works in the same, trusted way as traditional braces do, but with invisible brackets and wires. The idea is to quickly reposition the teeth that show when you speak, focusing on aesthetics rather than function. That means patients with misaligned front teeth are especially good candidates for Six Month Smiles, though it can work for a variety of alignment problems.
Advantages of Six Month Smiles
Yes, it's true the Six Month Smiles approach works invisibly — but there are even more advantages to this wonderful solution in teeth straightening. Some include:
Convenience: Six Month Smiles works in just that — six months. That means fewer appointments, and less time spent cleaning, caring for and worrying about your braces. Six Month Smiles offers the fastest straightening option out there, which means a lot of added convenience for you.
Affordability: Because Six Month Smiles cuts the treatment time of traditional braces in half, you'll spend considerably less money overall. We know that's an advantage everyone can appreciate.
Comfort: Six Month Smiles uses the traditional means for moving your teeth into place, meaning you don't have to worry about getting used to bulky plastic trays that other solutions rely on.
Is Six Month Smiles Right for Me?
If you've got misaligned teeth and are looking to make a dramatic, life-improving change in the way your smile looks, chances are good you're an excellent candidate for Six Month Smiles. For a better idea, you can take the Six Month Smiles online assessment quiz here. It's not a replacement for a consultation, but the quiz can give you a good idea whether or not Six Month Smiles is right for you.
Schedule Your Six Month Smiles Appointment Today
If you believe Six Month Smiles is a good option for you and your teeth, don't hesitate to request your appointment at Complete Dental Care in Burlington, MA today. We love giving neighbors like you straighter, more beautiful smiles — let us help you achieve yours this fall!