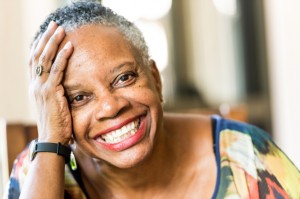 These days, we're showing off our smiles more than ever before. When I was growing up, we didn't broadcast our faces on Facebook and Instagram — and the word selfie certainly wasn't in the dictionary yet. I kind of like the trend of sharing photos instantly, but I know that if you don't have a smile you feel great about, it's stressful when somebody pulls the camera out.
Missing, damaged or worn-down teeth can be caused by a lot of things — car accidents, bad genes or excessive decay can all contribute. No matter the cause, the result is the same: a smile you're reluctant to show, and a lot of photos of you hiding in the background with your mouth closed.
If you're hiding behind a damaged smile, we want you to know you have options. One excellent solution for missing or damaged teeth is dental implants, which we've been using at our office for years.

Dental Implants: The Basics
The procedure for placing dental implants has come a long, long way since its beginnings in the early 1980s. They used to be a much more expensive — and less successful — solution. Fortunately, today, they're an affordable, relatively simple and highly effective choice in tooth replacement.
What Are Dental Implants?
While there are several options for replacing missing teeth, nothing else replaces the missing tooth and its root like dental implants. Our bones need stimulation in order to stay healthy, and because the tooth's root provides that stimulation, it's important to provide a total replacement. With no root, you'll steadily lose more jawbone — and that results in more missing teeth later on.
Dental implants are made of titanium, a sturdy material that your body accepts naturally. The implants are tiny rods that are surgically placed into your jawbone — so in order to be a good candidate for implants, we'll first make sure you have enough existing structure to accept the implants.
Once the jaw has had time to recover after the placement surgery — which can take from three to six months — your implants are covered in bone and able to provide a sturdy base for your replacement teeth, which will be bonded securely on in a follow-up appointment. Replacement teeth may be crowns, a single tooth or multiple dentures. Whatever the replacement option, we'll match the shade to that of your existing teeth, for a natural-looking smile you'll feel great about showing.
Are Dental Implants a Smart Investment?
Like anything that's worth having, dental implants do come at a cost. How much exactly will depend on your unique treatment plan, but you should consider this — because they replace the tooth and the root, stabilizing your jaw against bone loss, nothing prevents even more missing teeth like dental implants. Not only that, but when cared for properly, dental implants can easily last the wearer's lifetime. We firmly believe that dental implants are the wisest choice in tooth replacement.
Visit Your Burlington Dental Implant Dentist Today
We know dental implants are an excellent option in tooth replacement, and we think you'll agree they're the choice that best meets your goals and lifestyle. The only way to know for sure is to come in to Complete Dental Care for a visit with your cosmetic dentist. If we determine that dental implants are right for you, we can begin discussing your unique treatment plan immediately. Don't wait another day — schedule your appointment now.