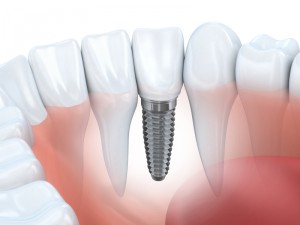 In our last post, we hinted at some of the benefits of dental implants. (Read about how dental implants can improve dentures here.) The truth is nothing helps to replace teeth better than dental implants, because nothing else takes the place of the missing tooth and its root. Today, let's take a closer look at what dental implants are, how they work and whether you might be a good candidate for the treatment in 2016.
Dental implants provide a whole tooth replacement
As you research your options in tooth replacement, you'll find that dental implants are the only way you can enjoy the stabilizing benefits of a prosthetic root. That's the key feature of dental implants, and what makes them by far the best choice in tooth replacement.
How dental implants work
Tiny titanium posts, dental implants are surgically implanted into the space left by each missing tooth. Over a period of about six months, the dental implant slowly fuses with the jawbone. It's a process known as osseointegration, and it's crucial for the success of your tooth replacement. Once the implant and the bone have become one solid unit, the top of the implant is exposed and your new tooth replacement is bonded securely on top.
Good candidates for dental implants
As you learn about the numerous advantages of dental implants, you'll start to wonder if you're a good candidate for the treatment. The only way to know for sure is to schedule your consultation at Complete Dental Care. When you do, Dr. Kostas or will check for two things.
Adequate supporting jawbone structure. Successful implantation requires plenty of bone for a solid anchor. Sometimes, the missing teeth have caused too much bone loss and other options must be discussed.
Oral and overall health. Dental implants are not an option for patients dealing with gum disease, or conditions that affect the immune system.
What to expect after dental implants
Once you've had the initial implantation, you can expect to experience some discomfort — just like with any oral surgery. Pain medicine and ice packs can help you recover more comfortably. You'll have a temporary tooth replacement as your recovery takes place, and once it's complete, you'll be enjoying your beautiful, sturdy tooth replacement in no time!
Interested in implantation? Talk to us today
Contact Complete Dental Care to find out if dental implants are the best option for you and your teeth! We can't wait to see how your best smile looks on you. Call us today!