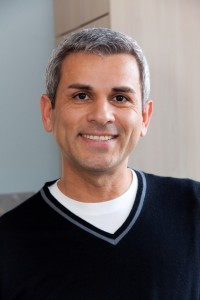 When you're missing several or all of your teeth, life just doesn't look as bright. Smiling causes you stress, and eating can become a chore. Fortunately, you can restore your confidence and improve your life with beautiful dentures in Bedford MA! Dr. Kostas and offer full and partial dentures to help you enjoy the benefits of a complete smile once again.
Life looks better with dentures
We've long used dentures as a way to replace missing teeth. In fact, the treatment has been around for centuries — but it's never been as wonderful as it is today. Modern dentures are beautiful, natural-looking and restore your ability to eat, speak and smile just like you always have. They're the affordable option Burlington and its neighbors rely on for tooth replacement.
Full and partial dentures
Patients missing a whole row of teeth in the top or bottom of their mouth can benefit from full dentures. These are attached to a gum-colored base and, when not supported by dental implants, are secured in the mouth by natural suction or with an over-the-counter denture adhesive.
When only a few teeth have gone missing, a partial denture fits with the existing natural teeth much like a puzzle piece. Dr. Kostas ensures that the partial denture blends flawlessly with the rest of your smile, and it's usually secured to a metal frame in the mouth when dental implants are not present.
Implant-supported dentures provide a better fit
As you consider the benefits of dentures, don't forget that dental implants are by far the best way to secure your new tooth replacement. Tiny titanium posts that are inserted directly into the gum, dental implants provide a prosthetic root to support the denture. The benefits of this stability are numerous.
Some advantages of dental implants include:
Increased oral health and no risk for jawbone degeneration

No need to bother with over-the-counter denture adhesives

Because the jawbone stays healthy and whole with dental implants, you'll never have to have your denture refitted due to a changing mouth shape.
The treatment time for dental implants is considerably longer than that of non-implant supported dentures, but patients who have chosen this option agree that increased stability and better oral health are worth the wait.
Learn more today!
If you're interested in completing your smile with full or partial dentures, don't hesitate to contact Complete Dental Care. Our team of dental professionals are here to help you build the smile you've dreamed about. Our Burlington office is happy to welcome patients from Bedford, Billerica, Woburn and surrounding communities.