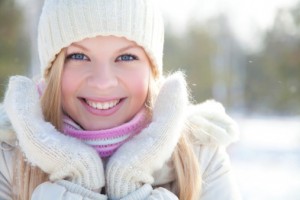 Happy New Year from all of us here at Complete Dental Care! We hope everyone has enjoyed a safe and joyous holiday season, and that all of our patients are looking forward to a year full of healthy, beautiful smiles. To help start the New Year out right, we'd like to center our first post of 2015 around the ways our team can help you get the bright, gorgeous smile you deserve. With the most advanced technology in the industry and a gentle, caring approach, the office of Dr. James P. Kostas offers cosmetic dentistry to patients in Burlington, MA and beyond.
How Can Cosmetic Dentistry Help You?
Do you ever look at your teeth in photos or in the mirror and wish that they were whiter? If so, you certainly aren't alone. Millions of Americans are dissatisfied with the shade of their teeth and the way it affects their self-confidence. Whether it's red wine, tea, tobacco, or your morning cup of coffee, surface stains add up over time and cause your smile to look less than luminous. Whitening toothpastes and over-the-counter products claim to brighten enamel, but achieving truly noticeable results requires a professional grade whitening formula. At Complete Dental Care, we personalize our teeth whitening treatments to create dazzling smiles both in our office and with custom at-home whitening kits. You'll love how quickly and easily we can lift years of deep stains from your teeth, allowing you to show off a superstar smile not only in 2015, but for years to come!
Are you looking for a way to completely transform the appearance of your smile without extensive dental work? Porcelain veneers may be the perfect solution for you. These wafer-thin shells of dental porcelain are meticulously crafted to look and feel completely natural, correcting a wide variety of common aesthetic flaws. Chips, gaps, cracks, misalignment, and deep stains become a thing of the past in as few as two visits to our office. We also offer CEREC same day crowns, dental implants, full mouth reconstruction, and invisible braces with Six Month Smiles. Whatever your smile needs to look its absolute best, you'll find it here at Complete Dental Care, your local Burlington, MA dentist.
Kick Off 2015 with a Smile
This year, resolve to have the brightest, most confident smile in the room wherever you go. While crash diets and extreme workout goals virtually always end in broken resolutions, it's easy to keep this one at Complete Dental Care. Give us a call today to schedule your consultation and to learn more about how our team can give you the flawless, radiant smile you've always wanted. Our conveniently located office in Burlington, MA happily welcomes families from throughout communities in Billerica, Bedford, Woburn, and the surrounding areas.