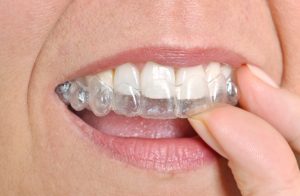 If you have considered getting clear braces for adults, you are certainly not alone in your desire for straighter, more beautiful teeth. More people than ever are choosing this orthodontic option to improve the alignment of their bite. While the best time to get braces is during childhood or adolescence, you're never too old to benefit from a properly-aligned bite and a confident smile! Keep reading to learn more about what's possible with Six Month Smiles, accelerated clear braces in Burlington from Dr. Kostas .
Why Seek Orthodontic Treatment
Crooked teeth are more than a cosmetic issue. When your teeth don't line up the way they should, you are unable to flash your most confident grin — but you may also find that your dental hygiene suffers, too. Crowded teeth are difficult to thoroughly brush and floss, causing plaque and tartar buildup. Gaps between teeth can trap food particles that lead to accelerated decay and gum infection.
Of course, the cosmetic aspect of straight teeth is also considerable when considering the pros of adult orthodontic treatment. Research shows that people who have attractive smiles are more likely to be perceived as successful. Combining orthodontic treatment with professional teeth whitening can give you the powerful, confident smile you want in adulthood!
How Does Six Month Smiles Work?
Six Month Smiles is a treatment option that uses clear or tooth-colored brackets and wires to shift teeth into the proper position. It is the best option for teeth that require cosmetic improvements rather than for making dramatic overhauls of the bite.
The difference between Six Month Smiles and traditional braces is the way in which they move the teeth. Traditional braces move the crown first, encouraging the root to move over to catch up. Six Month Smiles uses gentle forces to move both the crown and the root at the same time, for dramatically faster results. But just because Six Month Smiles works faster doesn't mean that it produces more discomfort than traditional braces. With this treatment option, most patients experience only minor soreness similar to that felt with traditional braces.
What Are the Benefits of Six Month Smiles?
There are a number of benefits associated with accelerated orthodontic treatment. Some of the most significant advantages of Six Month Smiles include…
Faster results than possible with traditional orthodontics or other clear braces option

Natural-looking brackets and wires allow patients to continue smiling and speaking with complete confidence throughout treatment

Shorter treatment time means less time spent at the dentist overall

Usually more affordable than other options

All the benefits of straighter, more beautiful teeth
Get Started With Clear Braces Today!
There is never a bad time to consider improving the alignment of your bite with clear braces. Six Month Smiles is a discreet option that works faster and better than anything else — and you can find it right here at Complete Dental Care. Request an appointment to learn more today!