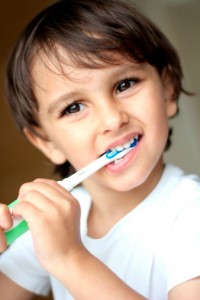 Since 1949, the American Dental Association (ADA) has celebrated the importance of children's oral health every February. This year, we'd like to take the opportunity to emphasize the role that children's dentistry plays in your little one's smile and overall health. At Complete Dental Care, Dr. James P. Kostas offers a comprehensive range of general family dentistry services to patients in Burlington, MA, including gentle children's dentistry.
Give Your Child's Smile a Smart Start
Studies show that children who visit the dentist regularly tend to experience better oral health as adolescents and adults. Bringing your son or daughter into our office for routine checkups and cleanings will help to pave the road toward strong, beautiful smiles for years to come. Because we understand that many of your younger patients may feel apprehensive about visiting a strange place, we always strive to promote a calm, comfortable environment where they know they are safe and warmly welcomed.
As a parent, you do everything you can to keep your son or daughter healthy and happy. Because we respect you and your family, we will never recommend a treatment that is unnecessary; in fact, we want you to serve as our partners in your child's oral health. You will always be fully informed of the state of your little one's teeth and gum health, and our team will gladly answer any questions you may have in a way that is straightforward and easy to understand.
Schedule Your Child's Dental Visit Today
Though National Children's Dental Health Month does offer an ideal opportunity to raise oral health awareness for the kids in our community, our team believes that every day provides a new chance to build a solid foundation of healthy smiles for our youngest patients. If it has been more than six months since the last time your son or daughter visited the dentist, the time to call and make an appointment is now. We can't wait to welcome the youngest smiles in your family to our Burlington, MA dental office. Our team also happily serves patients from throughout the surrounding areas, including Woburn, Bedford, Billerica, and beyond.