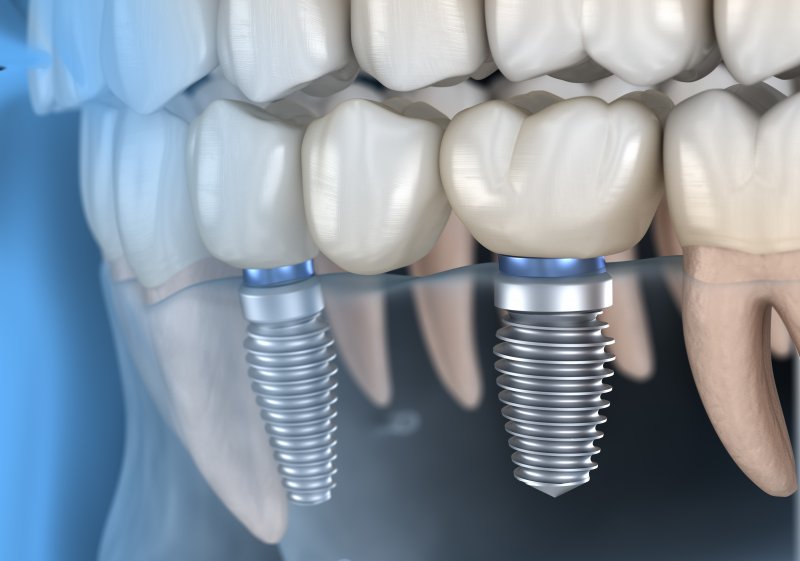 If dental implants in Burlington are something you are considering for tooth replacement, it's likely that you understand the benefits you can receive by choosing this type of restorative dentistry. Apart from their stability and functionality, their longevity makes them a popular choice among patients with missing teeth. But how long do they really last? You've heard a lifetime, but is it true? A local dentist shares just how long you can expect to enjoy your new and improved smile as well as what you can do to extend the lifespan of your implants.
Dental Implants and Their Longevity
"Dental implants can last a lifetime!" Does that statement sound familiar? If so, it's because many experts say that the actual titanium post that makes up the implant does, in fact, last forever. That is if you take proper care of it. To understand how long an implant lasts, you must first know the various parts of an implant. These include:
Titanium Implant (Post) – This is what replaces your natural tooth root and stimulates your jawbone to prevent deterioration.
Abutment – This small, metal appliance attaches to the implant and connects to the restoration to hold it in place.
Custom Restoration – This is the part that lives on top of your implant and is exposed to daily wear and tear. It can be a dental crown, implant bridge, or an implant-retained denture.
Because the abutment and restoration are visible and exposed to the daily elements of what you consume, it is much more likely that you will need these replaced every 15-20 years with proper care and maintenance; however, the actual implant itself can actually last forever. That is if you make sure that gum disease or other dental problems do not compromise it.
Ways to Enjoy Your New Smile for Longer
In order to keep your dental implants lasting as long as possible, there are a few things you can do to extend their lifespan, such as:
Maintain a regular oral hygiene routine of brushing your teeth twice a day for two full minutes, flossing at least once a day, and rinsing with an ADA-approved mouthwash. This will remove harmful bacteria and food particles from your mouth.
Keep your six-month dental checkups and cleanings with your dentist in Burlington to ensure that no problems are developing and that your implants are still in good condition.
Avoid hard, crunchy foods, as these can cause damage to your natural and artificial teeth. The same can be said for chewy foods.
Limit your sugar consumption, as this can lead to bacterial growth and cause decay and gum disease to occur.
While implants may cost more upfront, their ability to last longer than any other type of tooth replacement solution makes them a more cost-effective treatment in the long run. Don't settle for less when you can enjoy a beautiful, healthy smile for a lifetime.
About the Author
Dr. James Kostas attended Tufts University School of Dental Medicine, graduating Magna Cum Laude, before achieving Fellowship status in the Academy of General Dentistry and the American Dental Implant Association. Dr. Kostas and his team at Complete Dental Care believe in providing safe and reliable solutions to patients with missing teeth, which is why his skill and expertise in placing dental implants make him popular among the residents of Burlington and its surrounding communities. To learn more, contact us at (781) 272-0441.