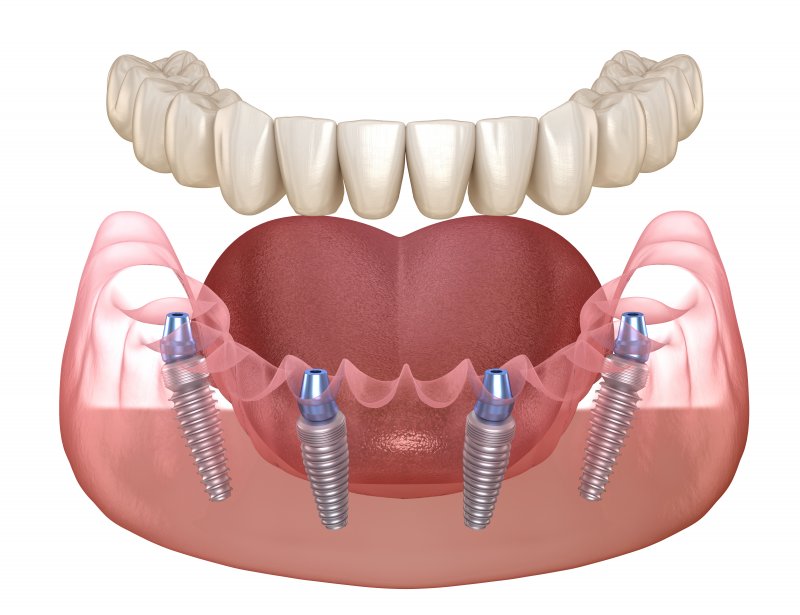 Dental implants can serve as the roots for a strong, dazzling new smile, and they can be used to replace all or most of your teeth at once. Whether you're tired of dealing with traditional dentures or have just recently begun facing a life with extensive tooth loss, you should definitely take the time to see if dental implants are right for you. But what kind of implants should you get: traditional implant dentures or All-on-4? These two options seem similar at first glance, but there are some important differences you need to be aware of. Here are 4 key factors to consider when thinking about All-on-4's vs dental implants.
1. The Number of Implants Used
How many implants does it take to support a full denture? If you're undergoing a traditional implant procedure, the answer could be as many as 6 or even 8. On the other hand, the All-on-4 procedure (as the name implies) only requires 4 dental implants placed in strategic areas of the mouth. Fewer implants mean a shorter surgery and less healing time.
2. Immediate Results
It takes time for your dental implants to fuse with the jawbone. For traditional dental implants, this typically means that you'll have to wait several months before you can receive the actual dentures. The All-on-4 procedure often eliminates this wait; in many cases, the implants will be able to support the weight of temporary dentures right away. That way you'll have new teeth to speak, eat, and smile with until your mouth is ready to receive your permanent dentures.
3. The Complexity of the Procedure
Many patients need to get bone grafts before they can receive dental implants. This is because bone loss occurs in the jaw due to a lack of stimulation from the now-missing teeth. However, bone grafts typically aren't necessary for the All-on-4 procedure. The implants are placed in a way that lets them join with the parts of the jaw where the bone density is naturally higher. This simplifies the entire process and can potentially reduce the number of appointments needed.
4. Cost
As you might imagine, All-on-4 is typically more affordable than a traditional dental implant procedure. First of all, there are fewer implants to pay for. And second, the fact that preparatory procedures such as bone grafts are typically unnecessary means you won't have to pay for additional visits. Of course, the cost for any dental implant procedure is going to vary based on each patient's unique needs.
Every patient has different factors they'll need to consider before choosing between All-on-4 or traditional implant dentures. Make sure you talk to your dentist and ask any questions you have before committing to any dental implant procedure.
About the Author
Dr. James P. Kostas is a native of Burlington who has been working in dentistry for 27 years now. He is a Fellow of the Academy of General Dentistry and the American Dental Implant Association. Thanks to his years of experience, he is skilled in placing and restoring both traditional implants and All-on-4 implants. To schedule an appointment at his practice, Complete Dental Care, visit his website or call (781) 272-0441.