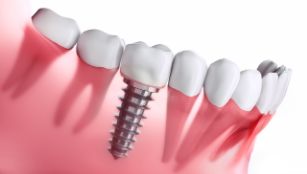 Are you one of the millions of Americans who have experienced tooth loss? If so, you may be trying to decide between dental implants in Burlington and traditional dentures. One of the most important factors for many people is time. Understandably, you want to restore your smile as quickly as possible, while also wanting a solution that's easy to maintain. Each person is different, so what's right for one may not be right for another, but everyone can benefit from learning as much as possible about each choice. To find out more, keep reading below!
Is It Faster To Get Implants or Dentures?
In the short-term, getting dentures is faster, but in the long-term, implants will save you more time. Think about it like this: Implants usually take 3-6 months to fuse with the jawbone, which is more time-consuming initially. But this extra time spent on the "front end" is what accounts for many of their long-term benefits and allows them to last a lifetime.
Dentures can be made much more quickly, but need to be replaced every 5-8 years. And since dentures don't replace the roots of missing teeth the way implants do, they can't provide the same chewing strength and stability or maintain the jawbone and facial structure the way implants can.
How Does the Maintenance Compare Between Implants and Dentures?
While it's true that implants need to be properly cared for to last a long time (potentially 30 years or more), maintaining them is simple and straightforward. In fact, it's very similar to caring for natural teeth: Getting regular checkups and maintaining good oral hygiene is usually all that's required.
Maintaining dentures is more time-consuming for a couple of reasons. First, they need ongoing re-lines and adjustments to continue fitting well, which involves regular trips to the dentist. In addition, daily maintenance can also take longer because dentures require particular products and special steps such as nightly soaking. They also need to be carefully handled because they've very slippery and can easily break if they're dropped.
How Do You Know Which Option Is Right For You?
Every patient is unique and faces different circumstances, so the best way to determine what's right for you is to schedule a consultation with an implant dentist. After they've assessed your medical and dental history, they'll take X-rays to evaluate your jawbone density. They'll also look at your age, budget, gum health, oral hygiene, and lifestyle choices (e.g. smoking) before making a recommendation. 
Regardless of which choice is right for you, replacing your missing teeth is incredibly important for both your oral health and self-confidence. It's a decision that will serve you well for the rest of your life!
About the Author
With over 27 years of experience, Dr. James Kostas is a general and implant dentist with a commitment to ongoing education that allows him to provide the highest-quality care to his patients. If you have any questions about dental implants in Burlington, he can be reached via his website.