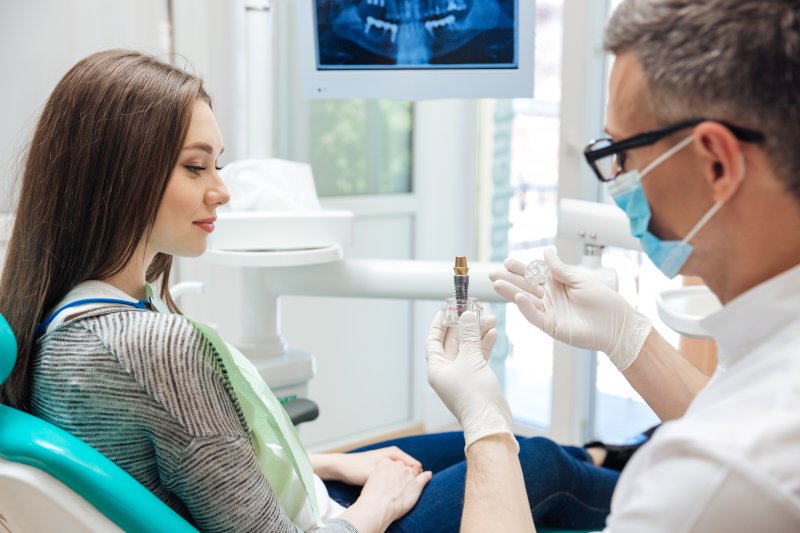 Are you currently wearing dentures and want to learn more about making a potential switch to a longer-lasting tooth replacement solution? Have you recently lost one or more teeth and are considering permanent prosthetics to restore your smile? No matter the reason for your intrigue, it's important that you understand the basics of dental implants before moving forward with treatment. To help you get started on your research journey, a dentist shares 3 facts that every patient should know when looking to learn more about dental implants.
Dental Implants Are Versatile
Dental implants are typically made of titanium; however, some dentists choose to use bioceramic materials. Designed to look similar to a screw, these small "posts" mimic the natural tooth structure from the root to the crown. Consisting of three parts: the post, metal abutment, and the customized restoration, dental implants are versatile when it comes to treating all types of tooth loss. Whether you're missing one tooth, multiples along a row, or an entire arch of teeth, your dentist can repair and rebuild your smile using these titanium implant posts and a beautifully crafted crown, bridge, or denture.
Dental Implant Placement Requires Oral Surgery
Considered the "gold standard" for tooth replacement, dental implants offer what no other tooth replacement solution can – the opportunity to provide continuous stimulation to the jawbone. Because these posts must fuse with the bone and surrounding tissues to create a firm foundation for your restoration, it is necessary to undergo minor oral surgery. A skilled and licensed professional will strategically plan and place each dental implant into the appropriate location of your jawbone. Once positioned and angled correctly, the gum tissue is closed before you are sent home to recover for 3-6 months.
Before the implants are placed, your dentist will administer local anesthesia to ensure you are completely comfortable. Once the effects wear off, you can experience some minimal discomfort, which can be alleviated using over-the-counter pain relievers.
After you're fully healed, you'll return to your dentists' office to receive your final restoration, which will be secured into place over the top of your dental implants.
Dental Implants Offer More Benefits Than Other Solutions
You will quickly discover there are far more benefits with dental implants than there are with other tooth replacement solutions. Some of these include:
The ability to eat the foods you love without worrying about a prosthetic slipping or falling out
A high success rate of 98% when placed by a trusted and professional dentist or oral surgeon
The reduced risk for systemic issues by choosing to replace your missing teeth and avoid the potential for developing diabetes, cardiovascular disease, osteoporosis, and more
Substantial cost-savings over time because you won't need to buy dental adhesives, specialized cleaning solutions, or require frequent adjustments and/or replacements
Choosing these permanent prosthetics to restore your smile is one of the greatest decisions you'll ever make. Now that you know a bit more thanks to the information provided in this dental implants 101 article, you can feel more confident about the future of your oral health and overall aesthetics.
About the Author
Dr. James Kostas attended Tufts University School of Dental Medicine, graduating Magna Cum Laude, before achieving Fellowship status in the Academy of General Dentistry and the American Dental Implant Association. Dr. Kostas and his team at Complete Dental Care believe in providing safe and reliable solutions to patients with missing teeth, which is why his skill and expertise in placing dental implants make him popular among the residents of Burlington and its surrounding communities. If you are considering these permanent prosthetics to restore your smile but want to learn more, contact us at (781) 272-0441.