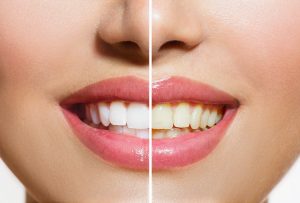 Professional teeth whitening is a wonderful option for patients who wish to reveal a whiter, more youthful smile without investing a significant amount of time or money in cosmetic dentistry treatments. Zoom! Whitening is one method that is quickly rising in popularity for its powerful results and efficient delivery. Keep reading to learn more about Zoom! and how it compares to at-home whitening kits, specifically. It's time for a crash course into teeth whitening near Bullard!
Zoom! Whitening vs. Other Options
Zoom! Whitening is an in-office treatment that can break through stains to leave your teeth up to 8 shades brighter in a single appointment. It works like this: a high-powered bleaching gel is applied to each of the teeth that show when you smile and then activated under a high-powered light. After the third light application, the treatment is complete — and you are able to flash your brightest, whitest grin! This method of whitening offers a number of advantages compared to at-home whitening kits: namely with longevity, effectiveness, and fighting sensitivity.
Longevity
Because the Zoom! treatment is so powerful, it can last for far longer than other whitening methods. Of course, you will need to maintain good oral hygiene practices and visit your dentist regularly after whitening to lift plaque and tartar buildup and enjoy positive oral health. But, unlike with other treatments, your results may last for years. If you start to notice your teeth losing their luster, you can always come in for a quick touch-up.
Effectiveness
Professional grade Zoom! Whitening is far more powerful than what you can buy over the counter. And compared with professional take-home kits, Zoom! often produces more impressive results due to the combination of the gel with the special UV light. Even severe stains, like those caused by tetracycline, can often be treated with the Zoom! technology.
Fighting Sensitivity
A professional whitening treatment like Zoom! is simply the wisest way to whiten your teeth, especially if you are prone to teeth sensitivity. Partnering with your dentist will help to ensure that you do not over treat your own smile — something that is common with take-home kits. Unsatisfied with their initial results, many people continue to whiten for long after the recommended period, leading to weaker, even more sensitive tooth enamel.
Your Best Smile: Delivered
Interested in what you have just read? Don't wait to learn more about professional teeth whitening and how it can give you your best, most attractive smile. Completed in just one visit to the dentist's office, Zoom! Whitening is a great way to smile more confidently and beautifully for the long haul!
Meet the Dentist
Dr. James P. Kostas is a trusted cosmetic dentist near Bullard with fellowships in the Academy of General Dentistry and the American Dental Implant Association. He is passionate about helping patients achieve their most beautiful smiles with cosmetic dentistry services. To learn more about his treatments or to schedule an appointment, do not hesitate to give him a call at 781-272-0441.