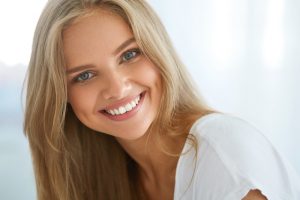 What does a perfect smile look like? You probably already have an image of one in your head: healthy, with big white teeth that line up side-by-side, just the way they should. But what if your teeth are yellow? Is having teeth that are less-than-sparkling white really matter all that much, as long as they are healthy? The truth is, not really — but it can be fixed. There are several factors that can cause otherwise healthy teeth to be yellow. Keep reading to find out what they are, and how we can help brighten your smile to reflect its true beauty with teeth whitening in Burlington.
Why Your Healthy Teeth May Be Yellow
If you are prone to one of the following habits, it's not that hard to figure out why you ace dental appointments but still deal with yellow teeth.
Smoking and tobacco use: This is one of the most damaging habits for both your oral and overall health. Aside from increasing your risk of oral cancer and a host of other diseases, smoking also steadily stains your teeth.

Drinking coffee, black tea, and soda: If you're like us, you love a cup of coffee in the morning — but you also probably already know the effect this has on the shade of your teeth. When tooth enamel comes into contact with highly pigmented beverages throughout the day, it gradually absorbs these shades. A yellow or brown tinge will develop over time.

Oral hygiene: Just because your teeth are healthy and cavity-free doesn't necessarily mean you are brushing your teeth well enough to prevent them from yellowing over time. Better brushing and flossing may help you enjoy a brighter smile.

Genetics: Just like almost everything else that is unique about you, your genetics play a role in the shade of your tooth enamel. Some people were just born with whiter teeth than others. In general, the teeth are naturally about as white as the whites of the eyes.

Thin tooth enamel: If you take certain medications that cause the tooth enamel to wear away or consume lots of acidic beverages, worn tooth enamel may be causing your smile to look yellower than it should.
How Teeth Whitening Can Help
If your yellow teeth are the result of food, beverages, tobacco use, imperfect oral hygiene, or genetics, your dentist can help with a professional whitening treatment. In just a single hour at Complete Dental Care, we can brighten your smile up to 8 shades with Zoom! Whitening. Patients can also choose a take-home treatment to whiten at the pace they are most comfortable with. The results from professional teeth whitening can last for many months or years with proper maintenance.
No matter which treatment is best for you, we know you will love the results that are possible with professional teeth whitening. Go ahead and schedule an appointment with your cosmetic dentist in Burlington today!
About Complete Dental Care
Dr. James P. Kostas is a trusted general, restorative, and cosmetic dentist serving patients of Complete Dental Care. To learn more about teeth whitening or to go ahead and schedule an appointment for spring whitening, you are invited to contact the office at (504) 282-0700.