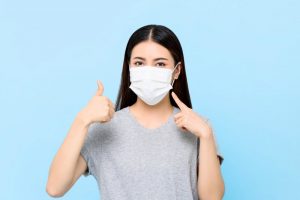 Due to COVID-19, the idea of wearing face masks in public has become a hot-button issue. Many people are staunchly against this practice, even though it has been proven to drastically reduce your risk of contracting illnesses, including the coronavirus. But is there a proper way to put on and take off a face mask? Keep reading as a dentist in Burlington answers this question.
What Does a Face Mask Do?
A standard surgical mask comes in three layers. The outer layer is designed to repel water, blood, saliva, and other bodily fluids. The middle layer filters out certain pathogens from both the inside and outside of the mask. The innermost layer absorbs sweat and moisture from your exhaled air.
When Should You Wear a Face Mask?
The World Health Organization (WHO) generally recommends that you only wear a surgical mask if you currently have a fever, cough, or other respiratory symptoms, or you're caring for someone with these symptoms. However, because of COVID-19, the Centers for Disease Control and Prevention (CDC) suggests wearing a cloth mask whenever you go out, just to be on the safe side. Medical-grade masks should be reserved for healthcare professionals.
How to Put on a Face Mask
Before donning a face mask, wash your hands with soap and water for at least 20 seconds. Position the colored side of the mask so that it's facing outward. If there's a metallic strip, make sure it's positioned against the bridge of your nose. Hold the mask by the ear loops and place one over each ear. Mold the metallic strip to the shape of your nose by pinching and pressing down on it with your fingers. Then, pull the bottom of the face down over your chin. Once the mask is in position, don't touch it until you're ready to remove it.
How to Take Off a Face Mask
Make sure to wash your hands before touching your face mask to take it off. Avoid touching the mask itself, as it could be contaminated. Instead, hold it by the ear loops and unhook both at the same time. Holding the loops, drop the mask into a trash receptacle. Wash your hands again afterward, as they could have come into contact with germs.
Putting on and taking off face masks correctly may help protect yourself and others from infectious diseases, including COVID-19. For more advice on how to properly protect yourself from the virus, ask a healthcare professional like your dentist.
About the Author
Dr. James P. Kostas is a dentist in Burlington, MA who attended Tufts University School of Dental Medicine for his doctorate. He has achieved Fellowship status in both the Academy of General Dentistry and the American Dental Implant Association. His practice takes several precautions to ensure his patients' health and safety. To learn more about these safety measures, you can visit Dr. Kostas' website.