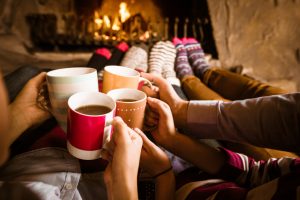 Your little ones are so excited for the holiday season. What are your family's traditions? Sipping hot chocolate, decorating sugar cookies, and popping caramel corn — they're all so fun. But these favorite holiday bonding activities may also be bad news for your child's teeth.
As your family dentist in Burlington, we've got an interest in keeping your loved ones' smiles healthy this season, and all year long. Keep these good dental hygiene tips in mind to sit back, relax, and enjoy the happiest time of year with those you love most.
#1: Keep track of good habits
It can be difficult for children to visualize their dental hygiene routine — and as a result, they are resistant to brushing and flossing every day. But these habits couldn't be more important this time of year.
Try keeping a dental hygiene calendar during November and December. Every day your little one completes her routine, she gets to put an X on the calendar. You can make stipulations for how much pleading it takes for her to pick up the toothbrush, if you want.
Tip: Think of a reward for the end of the season. For example, if she brushes and flosses like she should every single day, a trip to the movies is in order (or whatever activity is likely to get her smiling most).
#2: Avoid the known tooth-killers
We're all for indulging in a good cup of mulled wine or festive sugar cookie, but some holiday treats are just no-nos in our book. Like candied apples — that sticky coating is definitely going to get caught in the teeth and accelerate decay. And peanut brittle? We've seen enough chipped teeth to know to stay away from that one.
During November and December, pay attention to what you and your little ones are exposed to. Enjoy the season, but we encourage you to do so without the excessively hard or chewy desserts and candies.
#3: Talk about healthy choices
Don't keep it a secret — this season, talk to your little one about making nutritious choices during the holidays. Let her know that it's perfectly fine to celebrate a special time with a favorite food, but that moderation is key in all things. And that maintaining regular brushing and flossing is more important than ever.
A follow-up: don't just talk about making good choices. Your little one is constantly taking note of what you do, so make sure you are leading by example with nutritious eating and good dental hygiene through the holidays.
#4: Stock up on smile-friendly holiday treats
Your little one will be inundated with cookies, cakes, and other treats this season. And as much as you may try, you really don't have much control over the snacks she receives at school or at friend's houses. In addition to discussing the importance of making healthy choices, we recommend stocking your own home with special treats you feel good about your family eating. Holiday snack mixes are a good idea, and we like this Cranberry Orange Chex Mix recipe.
Do you and your family have a favorite nutritious holiday treat? We'd love to hear it!