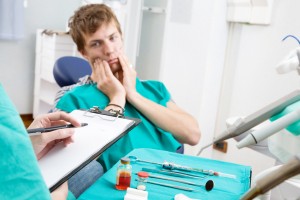 You can't schedule a broken tooth. No, tooth emergencies don't take your personal schedule into account — they're bound to happen at any time. The next time you or a loved one experience an unexpected tooth trauma, the most important thing is to keep your cool and call the emergency dentist in Burlington immediately. Keep reading for more on dental emergencies.
What To Do After These Top Three Tooth Emergencies
Once you've called your emergency dentist, there are some steps you can take in the meantime to maximize the chance of saving the natural tooth. Below are the next steps to take following the top three tooth emergencies.
Loose or Knocked-Out Tooth
If a fall or other unexpected trauma left you or a loved one with a loose or totally knocked-out tooth, keep these steps in mind to increase the chance of saving the natural tooth.
For a loose tooth, call your dentist immediately. Then try to gently move the tooth back into place using slight pressure with your finger, but do not force the tooth. Biting down can help keep the tooth in place until you can see the dentist.

For a tooth that's been knocked out, call your dentist immediately. In the meantime, be sure to hold the missing tooth by its crown, or the visible portion. Gently rinse the tooth to remove debris. Try to store the tooth in its original socket or in the cheek. If that's not possible, place it in a cup of milk.
Severe Toothache
Once an aching tooth becomes so severe it prevents you from going on about your day as normal, it's past time to call your Burlington dentist — you've got a dental emergency. Contact us immediately, and take an over-the-counter pain medication like Tylenol or Aleve to relieve discomfort, and use an ice pack in 15-minute intervals to reduce swelling and ease pain.
Soft Tissue Laceration or Injury
If you're experiencing serious bleeding following a laceration to the soft tissues of the mouth (or heavy bleeding after any dental injury, for that matter), you should head straight to the emergency room. Punctures, lacerations and tears to the lips, cheeks or tongue should be cleaned immediately with warm water. Apply pressure to help stop bleeding.
To manage the pain associated with these injuries, you can take an over-the-counter acetaminophen, but stay away from anticoagulants like aspirin and ibuprofen, as these will increase blood loss.
Most Importantly, Stay Calm: Your Emergency Dentist Is On the Case
The most important thing to keep in mind after you or a loved one have experienced tooth trauma is this: stay calm. As with any emergency, panic will only exacerbate the situation. You're in good hands with the emergency dental team at Complete Dental Care. And once your dental emergency has been handled, know we're also your cosmetic dentist in Burlington.
Our offices are prepared to handle your emergency with regular hours 6 days a week, plus emergency coverage. We encourage our neighbors in and around the Burlington, MA area, including Bedford, Woburn, Wilmington, Lexington, Billerica and beyond to trust us with their dental emergencies. Remember that time is crucial following a tooth trauma, so contact us as soon as possible.