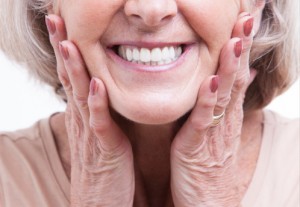 Believe it or not, dentures have been around for 1000s of years. Most people have heard the tale of President George Washington's wooden teeth—that were actually made out of ivory and parts of human, horse and donkey teeth—but did you know that archaeologists have found evidence of false teeth being used in Egypt around the year 1500 B.C. and during early Japanese dynasties? Fortunately, the dentures of today have come a long way. At Complete Dental Care in Burlington, dentures are now designed to look natural and feel completely comfortable.

Dentures and partials can be used to restore the smiles of people who have lost teeth because of severe decay, traumatic injury, or untreated periodontal disease. Other reasons include infection and, of course, a tooth needing extraction. Replacing missing teeth is vital to your oral and general health. Obviously, dentures can make your smile whole again. In addition, dentures can restore your ability to enjoy a variety of foods and make speaking clearly easier, which can be a real confidence booster in professional and social settings. Moreover, tooth loss has a tendency to lead to other oral health problems such as an improper bite and symptoms of TMJ; tooth decay; gum disease; and additional tooth loss.
Dentures from the Dentist in Burlington
At Complete Dental Care, our dentists use the latest materials and technology to provide patients with dentures that closely mimic their natural teeth. This oral prosthesis is made of false teeth, also called pontics, which are attached to a gum-colored base. We make sure the underside fits smoothly along the surface of your gums. And while wearing dentures does require some time to get used to, you shouldn't feel pain or discomfort. If so, then let us know and we'll be able to make an adjustment that smooths any spot that irritates your gum tissue.
Caring for Dentures in Bedford, MA
Just like natural teeth, dentures require regular and proper care to look good and function well. Here are five tips to help you ensure the sparkling appearance and longevity of your dentures:
After eating, rinse your dentures under running water to remove food debris.
Brush your dentures daily with a soft denture brush and denture cleanser.
Soak your dentures in water or denture solution overnight while you sleep.
Use a toothbrush with soft bristles to clean your gums, tongue, cheeks and palate when your dentures are removed.
Schedule regular checkups with the dentist Burlington denture wearers rely on for complete oral care.
Call Our Office Today
If you would like more information about dentures, then schedule a consultation with one of the dentists at Complete Dental Care. The Burlington, MA office is convenient from Bedford, Billerica, and Woburn.