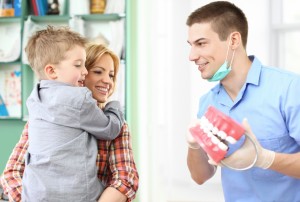 Complete Dental Care strives to produce complete dental excellence in Burlington and surrounding areas. In addition to Burlington, we also serve families looking for a dentist in Billerica. We serve the needs of families in all surrounding areas with complete care, including preventative, orthodontic, and cosmetic care. With all of your dental needs met in one convenient location, we'll keep all of the smiles in your family healthy and beautiful.

Family Dentist in Billerica
At Complete Dental Care, we are the caring and friendly team who will make your family feel at ease while we care for their oral health needs. Our relaxing and comfortable environment will make even the youngest of patients feel relaxed to enjoy visiting the dentist. We'll cater to the needs of your entire family, no matter their age, with complete preventative, cosmetic and restorative services. Using the latest advancements in dentistry and state-of-the-art treatments, you'll benefit from dental excellence with Complete Dental Care.
We'll Care for Your Entire Family
We understand that life gets busy when raising a family. Scheduling dental appointments is hard enough, especially if you have to visit multiple locations for each member of your family. We make visiting the dentist easier and less stressful by offering family dentistry services. Now, you're able to have each member cared for at one convenient location– saving you time and money.
We'll get to know you and each member of your family to build a long-lasting relationship to promote a lifetime of oral health. We'll take the time to get to know your family to address individual needs and concerns to provide the highest level of comfort and care. By having your family's dental needs met at one location, all of their dental records will be kept in one spot. We'll have a deeper understanding of your family's oral health needs due to the knowledge of your family history to address any issues ahead of time with preventative care.
No matter if you have young children, teenagers, or need dental care for yourself or your spouse, we'll treat every member of your family like our own.
Your Billerica Dental Team
Our dental team is fully committed to providing the most advanced and comprehensive dental services, while holding the highest regard for patient comfort and satisfaction. We make it our mission to make you feel at ease in our office. We take the time to get to know you and explain all aspects of your oral health to allow you to make an educated decision. When you choose Complete Dental Care, you become part of our team, working together to ensure positive oral health. Plus, we'll take your family in as our own for ultimate peace of mind.
If you've been looking for a family dentist in Billerica, look no further. Complete Dental Care offers the comprehensive dental services your family needs. We'll accommodate your family to create individualized treatment plans while reducing discomfort and barriers that cause dental anxiety. Let our family at Complete Dental Care cater to your family. Contact us today for an appointment.