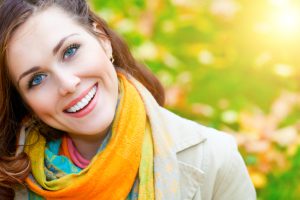 If you have had more headaches than usual these days, you can blame election season  — but if you are dealing with chronic head pain and a clicking, popping jaw, you need to seek treatment for your TMJ. And we've got good news for you. You probably already know of Botox as a method for smoothing facial lines and wrinkles. But did you know that its ability to freeze the facial muscles can treat your chronic facial pain, too? Your dentist in Burlington uses Botox to manage headaches and jaw discomfort.
How Botox Helps Relieve Chronic Pain
Sometimes, noticeably smoother facial skin is just a pleasant side effect of treating a different issue. Research is growing that suggests Botox injected into the jaw muscle can be a quick, effective solution for your head and jaw pain. We've seen the positive effects at our office numerous times.
How does Botox work for jaw pain? By freezing the muscles that cause the tension in the first place. TMJ (temporomandibular joint) and head pain are caused by jaw clenching and teeth grinding — habits that you may not even realize you have. You can try to relax your jaw throughout the day, but at night, it's almost impossible to keep yourself from grinding your teeth. And in addition to giving you real pain, the habits also cause your teeth to become weak or worn.
Forget the night or day guard for treating your problematic TMJ! Too many patients do not find the solution they need with these treatments. The night guard may fall out during sleep or they forget to wear it altogether. Fortunately, Botox treatments can give you the relief you seek at long last.
You'll start to notice relief in the TMJ two to three days after your injection. Botox treatments for head and jaw pain can last for up to six months, and the treatment is completed in just one quick visit to Complete Dental Care!
Are You a Candidate for TMJ Treatment With Botox?
Most patients who are interested in relieving their TMJ pain and headaches with Botox injections are indeed good candidates for the procedure. Chances are high that you are, too. Please get in touch with Complete Care Dentistry to determine your eligibility for Botox to treat head pain.
In your consultation, you and your doctor will thoroughly discuss your health history, as well as any medications you are taking. Botox is a simple procedure, but you should still be healthy to undergo the injections. Tell us about any allergies you have that may influence your ability to safely undergo the procedure.
You deserve relief from your head and TMJ pain. Contact Complete Dental Care and schedule an appointment to discuss Botox therapy today!