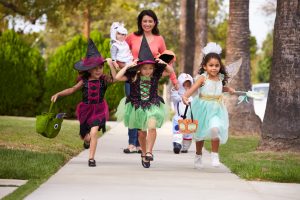 If your kids are anything like ours, November 1 will be spent counting up candies and rehashing memories from halloween night. But this year, we're celebrating a new holiday the day after all the trick or treating. November 1 is National Brush Day! It's a day that's set aside to promote regular toothbrushing, the foundation of all healthy smiles. Your dentist in Burlington encourages you to do something good for your little one's smile after halloween. Sign the pledge to celebrate National Brush Day!
Frequent Brushing Key to Healthy Teeth and Gums
No matter your age, good oral health is a constant battle against plaque and tartar. And for kids whose dental hygiene habits are still a bit shaky, it's even harder to keep the teeth free of these substances — especially around halloween time.
Your child will begin to handle her own toothbrush around age five, and will probably be brushing on her own around age seven or eight. But that doesn't mean she is cleaning well every single time. Make sure you continue to monitor your little one's brushing habits, jumping in as needed to get a thorough clean.
Here's what effective toothbrushing looks like.
Hold the toothbrush at a 45 degree angle from the gums.

Brush in gentle strokes the size of the teeth.

Clean outside, inside, and on the chewing surface of the teeth.

Brush each quadrant of the mouth for 30 seconds each.

Don't forget to brush the tongue.
If you meet resistance getting your little one to brush, try making it a family affair. Gather your whole crew to brush together at night and in the morning. You may find your child is a lot more enthusiastic about brushing when she sees everyone else doing it, too.
Brushing Is Part of a Healthy Smile Routine
While you're talking to your little one about brushing her teeth on November 1, remind her that the toothbrush is just one aspect of good dental and oral health. In addition to brushing for two minutes, twice a day, healthy teeth require daily flossing and a visit to the dentist every six months.
Fluoride is good for teeth — especially in children. Make sure your little one is getting plenty of exposure to the mineral by choosing toothpastes that have been approved by the ADA (American Dental Association). These formulas are guaranteed to include fluoride for stronger tooth enamel. Your dentist can give her teeth an extra boost as needed with a fluoride treatment at the end of each checkup and cleaning.
Let's Talk About #2min2x
Start the conversation with your child about brushing for two minutes, twice a day. Sign the pledge and a Facebook post or tweet will go out at noon on November 1 in support of National Brush Day! 2min2x has some videos and other resources to encourage your child to take brushing seriously.
Questions about National Brush Day? Or maybe you'd like to schedule a dental cleaning for your children around the holidays. Contact Complete Dental Care to schedule an appointment today!