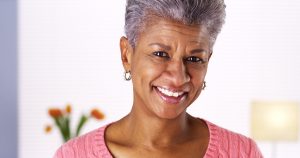 Oral cancer is a serious threat for adults of all ages, and its occurrence is on the rise in the U.S. and around the world. With regular screenings, your dentist can detect oral cancer earlier and improve the chances of successful outcomes with prompt treatment. The next time you visit your dentist in Burlington for a routine checkup and cleaning, get an oral cancer screening. Doing so could save your life!
Who Gets Oral Cancer?
Oral cancer has historically been linked to older age and tobacco/alcohol use. However, with the spread of HPV (human papillomavirus), oral cancer is affecting younger and healthy patients more than ever before.
Adults of all ages can get oral cancer, but the risk is higher for…
Smokers or tobacco users

Heavy alcohol users

People who are frequently exposed to UV light

Patients with HPV

People with a family history of cancer
Most adults should have one oral cancer screening per year. Let your doctor know if you are at a higher risk of developing oral cancer due to one or more of these risk factors.
What Are the Warning Signs of Oral Cancer?
Typically, anything that seems unusual (like a growth, rough patch, or a change in sensation) in your mouth should be checked out by your dentist or doctor. Oral cancer can appear as a rough white or reddish patch in the mouth, or a lump or thick spot in the soft oral tissues. Pain in the teeth, tongue, or jaw can also denote oral cancer. Watch out for a chronically sore throat, a change in the tone of your voice, or difficulty swallowing, as these are also potential warning signs of oral cancer.
What Happens in an Oral Cancer Screening?
The oral cancer screening is a visual and tactile exam performed by your dentist. It doesn't take long, and is usually performed at the end of your regular checkup and cleaning at Complete Dental Care. Dr. Kostas will begin by discussing your oral health with you — have you noticed anything unusual lately? Then he will examine your facial structure and the inside of your mouth. He will also feel around your throat, the cheeks, and around your mouth for any lumps or suspicious bumps that could denote cancer.
If an abnormality is found, we will thoroughly discuss your next steps to ensure you receive the follow up care you need right away. Lesions that have not gone away after two weeks usually need a biopsy right away. For a less worrisome lump or bump, we may schedule an appointment for you in a few weeks to see if the area has gone away or changed.
Request an Appointment Today!
When was your last oral cancer screening? If it's been awhile, or if you have never had one at all, it's time to schedule a checkup and cleaning along with an exam for oral cancer at Complete Dental Care. Contact us to book your visit today!