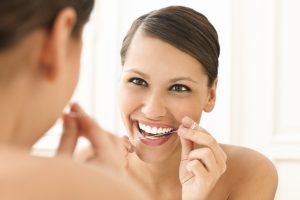 Don't believe everything you read. People have been offering that advice for centuries—because it's true. Take for example the recent study claiming that flossing is ineffective. At Complete Dental Care, Drs. Kostas and Cardarelli see the effects of not flossing in patients who have chronic tooth decay and gum disease. Therefore, your dentist in Burlington is sticking by the American Dental Association's recommendation to floss at least once a day.
When you floss you get rid of bits of food that may be stuck between your teeth. And we're not only talking about particles you can see, but also those that are so small they are virtually invisible to the naked eye. Bacteria feed on these and excrete acids that cause cavities.
Plaque is a colorless biofilm that accumulates in our mouths every day. Flossing covers approximately 40 percent of a tooth's surface. Flossing is the best way to make sure you've cleaned each tooth completely and have removed the plaque that can cause cavities and gum disease.
To make sure you are doing the best job possible when you floss your teeth, Complete Dental Care in Burlington, MA, offers the following suggestions:
Tear off about 12 inches of floss so you'll have a clean segment between each pair of teeth
Hold the floss between your thumbs and forefingers (wrapping the floss in a "C" shape)and gently guide between your teeth
Move the floss up and down against the side of each tooth, making sure to reach below the gum line
Move methodically around your mouth so you are certain that you've flossed between all of your teeth
Call Our Office Today
For more tips on how you can improve your at-home oral hygiene routine, or to schedule a dental cleaning and exam, call Complete Dental Care in Burlington, MA.