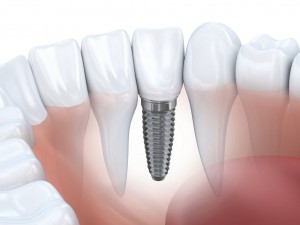 Missing teeth can stand between you and a healthy, happier smile. We all want to look our best, and our teeth are no different. Missing teeth can be a confidence killer, but there is hope with dental implants from Dr. James P. Kostas at Complete Dental Care in Burlington, MA.
Implant Dentistry Overview
Dental implants are artificial tooth roots used to support a restoration for a missing tooth or teeth, helping to stop or prevent jaw bone loss. Losing teeth can be a drag and a confidence killer. Dental implants provide patients with the strength and stability to eat all the foods you love without struggling to chew. In addition, dental implants stimulate and maintain the jaw bone, thus avoiding bone loss and helping to preserve facial features. Dental implants in Burlington are getting the expert treatment.
Common tooth-loss factors:
Tooth decay
Root canal failure
Large cavities
Dental injuries
Gum disease (Periodontitis)
Trauma to the mouth (tooth injury)
Excessive wear and tear
Congenital defects
Implant dentistry services:
Quality, proven, reliable procedures
Exam and X-Rays
Placement of dental implants
Restoration to final results
The benefits to having dental implant dentistry are many including properly aligning your bite, natural-looking teeth, better oral health, bone loss prevention and so much more. Dental implant patients enjoy restored function, which allows a healthy diet of hard-to-chew foods, improved speech and more. Your new smile will boost your confidence, enhance your appearance and improve your quality of life.
Cosmetic Dentistry
The best cosmetic dentist in Burlington is Dr. Kostas – period. We can give you the smile you deserve! Some of our most popular cosmetic dentistry services include cosmetic bonding, teeth whitening, and porcelain veneers. Cosmetic dentistry is important not only for your teeth and gums, but in the way you carry yourself. How your teeth look can have a huge effect on your confidence and how you interact with people. Having a bright smile is a powerful mood booster. Did you know that smiling often has many physical benefits like lowering blood pressure and improving your immune system? See how Dr. Kostas and his staff can improve your smile using the latest cosmetic dentistry procedures.
Make An Appointment Today
To schedule an appointment, please speak with our friendly staff located in Burlington, MA. We also serve the surrounding areas of Wilmington, Billerica, Woburn, Lexington, Bedford and beyond.