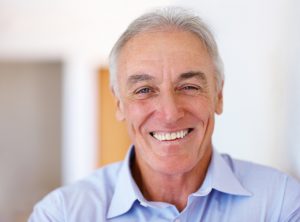 The loss of one or more of your teeth can greatly affect your life in a number of ways. First, eating and chewing your favorite foods can become a challenge, and your nutrition may suffer. Not to mention the embarrassment you feel when you talk or smile, losing your teeth takes a toll on your oral health as well. A missing tooth puts you at a higher risk for gum disease, infection and loss of more healthy teeth. The good news is that dental implants in Burlington may be the solution you're looking for!
What is a Dental Implant?
An implant is very successful because it replaces both your tooth and your root. Your new root is made of titanium, which is biocompatible and will integrate with your bone over time. This creates a stable foundation to support your new tooth, which is made of a high quality porcelain crown. Your crown attaches to your root through an abutment after the appropriate healing time has passed.
What are the Benefits of Dental Implants?
Implants are by far the best option for replacing one or more missing teeth, and the benefits of implant treatment are many. First, an implant acts just like a natural tooth, so you're able to talk, smile, chew, brush and floss just as you would with your own tooth. An implant is also very durable, so with regular dental check ups and excellent home care, it can potentially last for a lifetime.
With a 98% success rate, implants are a very reliable treatment. Modern dentistry has made many advances in this field, and there's a lot of technology available, such as 3D imaging that ensures the success of implant surgery. This is definitely a restoration you can trust and rely on.
Implants are custom designed to match your existing teeth, so they naturally complement your smile. Dental implants can also be used to support bridges and dentures so that patients who are missing multiple teeth have reliable options for replacing their teeth. Implant supported dentures offer patients a much more secure fit that makes talking and eating much easier.
At Complete Dental Care, Dr. James Kostas and Dr. Justin Cardarelli specialize in helping patients restore form and function to their smiles. Dr. Kostas surgically places and restores implants at the office so you will not have to be referred elsewhere during your implant treatment. 3D Cone Beam imaging takes the guesswork out of surgical placement and allows Dr. Kostas to plan your surgery ahead of time. A surgical implant guide that is fabricated from your 3D imaging will help him with precise placement of your implant on the day of surgery. You will work with the Complete Dental Care Team from start to finish and the result will be a smile that you're proud of once again.
Don't let missing teeth hold you back from living the life you deserve any longer! Contact our office today and learn more about how we can help you reclaim your smile and your life.