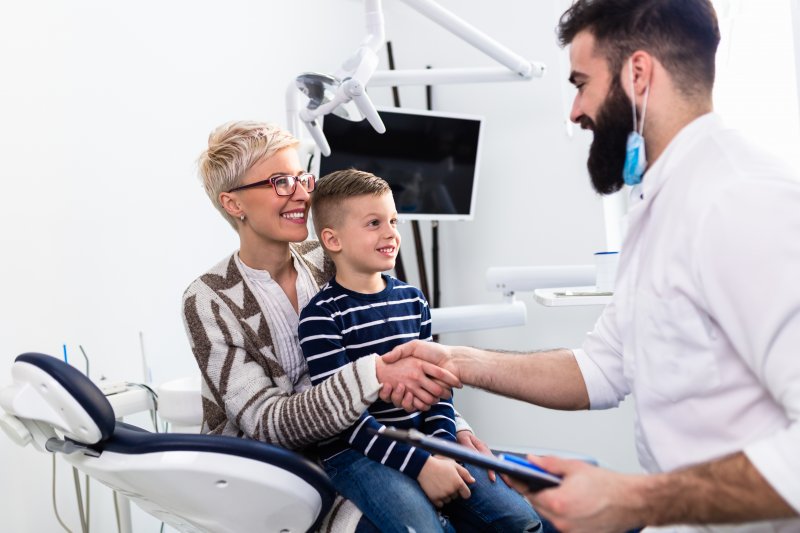 Since each person's dental needs are unique, it's natural to consider having a different dental specialist for each member of your family. However, a few months of driving all over town for routine checkups and cleanings, restorative care, braces appointments, and everything else will have you strongly reconsidering. Fortunately, there is a solution: a family dentist in Burlington! Unlike general dentists, a family dentist is extensively trained in treating smiles of all ages. Unsure if you should make the switch? Here are three benefits to consider!
#1. Streamlined Dental Care
Between biannual appointments and restorative care, your family's trips to the dentist can quickly add up. Now add denture adjustment appointments for grandpa, teeth-straightening visits for your teen, and whitening treatments for yourself and you're there every other week! The good news is that a family dentist can streamline your care by providing a comprehensive array of services under one roof. Plus, you'll be able to schedule everyone's checkups and cleanings at one time, making scheduling (and attending!) your appointments easier than ever.
#2. Set a Good Example For Your Little Ones
It's no secret that tooth decay is a prevalent condition for children and adults alike. But did you know its prevalence only comes second to the common cold? While a solid at-home dental hygiene routine is instrumental in keeping your family's oral health in pristine condition, visiting the dentist every six months is equally as important. Your little one is a sponge, and seeing you get your checkup and cleaning with the same doctor can go a long way!
#3. It's Easier to Track Your Dental History
Thanks to advancements in technology, long gone are the days of offices filled with paper files. With that being said, even tracking down digital files can lead you down a rabbit hole. Luckily, you'll never have to worry about that with a family dentist. With them, all of your family's files will be in one place, contributing to seamless, stress-free care.
You and your family deserve only the best, especially when it comes to the care of your smile. Fortunately, you don't have to drive all over town or sacrifice your schedule to ensure each member of your household has their dental needs met; a family dentist can provide the necessary care all under one roof!
About the Author
Since graduating second in his class from Tufts University School of Dental Medicine, Dr. James P. Kostas has been using his extensive experience, clinical expertise, and genuine care for each of his patients to deliver world-class dentistry that is second to none. Nearly three full decades later, he has helped countless families achieve improved oral health and gorgeous smiles. If you would like to learn more benefits that come with selecting a family dentist or want to schedule an appointment, don't hesitate to visit his website or give him a call at 781-272-0441.