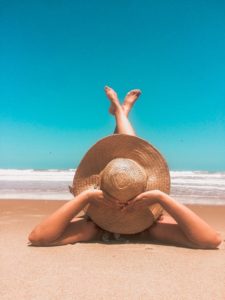 Summer is finally here! You have your bags packed, and you're ready to hit the road to take your dream vacation. The last thing you'd expect to ruin your travel plans is a dental emergency. Although you might not believe you're at risk, 1 in 6 Americans has one annually. While there is never a good time for one to occur, an unexpected trip to your dentist can quickly put a kink in your summer plans. Don't worry, here are 5 tips to prevent dental emergencies from interrupting your vacation.
1. Visit Your Dentist for a Cleaning and Checkup
Did you know not all dental emergencies are the result of an injury or accident? In fact, many are due to an underlying oral health issue that hasn't been treated. A small cavity can turn into a severe toothache without the right treatment. A quick trip to your dentist in Burlington for a cleaning and checkup will ensure there aren't any dental problems lingering in your mouth.
2. Wear an Athletic Mouthguard for Contact Sports
The weather is great for a game of football or riding your bike along the coastline; however, 5 million Americans lose a tooth each year from sports-related dental injuries. You can safeguard your smile with an athletic mouthguard. It is a protective barrier to lessen the risk of a broken or knocked-out tooth if there's trauma to the mouth.
3. Maintain Your Oral Hygiene Routine
It's easy to deviate from your daily routines while you're away from home, but you don't want to skip brushing before bed or flossing. Improper oral hygiene habits can quickly lead to a big problem, like swollen, bleeding gums or tooth sensitivity. Pack a travel kit containing the necessary dental products to make it easier to brush and floss while you're on the go.
4. Practice Pool Safety
Besides sports, many summer dental emergencies are pool-related. Dentists across the country see an increase in oral injuries during the warmer months from pools and hot tubes. Bumping your mouth on the pool ledge or slipping on a wet deck can land you in a dental chair. You can avoid needing an emergency dentist by practicing pool safety, like not diving into shallow water.
5. Watch What You Eat
You're going to be surrounded by many new foods and drinks, many of which might contain a lot of sugar. It's best to choose your foods wisely to limit your consumption of cavity-causing sugars. Besides eating healthy, avoid eating any overly hard foods to prevent a broken tooth or lost restoration.
Enjoy Your Summer Plans
Spend your vacation making new memories instead of sitting in a dental chair. With a few precautions, a dental emergency will be the last thing on your mind.
About Dr. James P. Kostas
Dr. Kostas earned his dental degree at the Tufts University School of Dental Medicine before continuing his training in advanced treatments, like emergency dentistry. As a member of the Academy of General Dentistry, you can feel confident your smile is in good hands. Contact our office today to schedule an appointment.