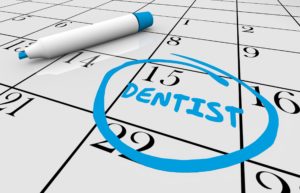 Your smile relies on more than your toothbrush and floss to stay healthy. The American Dental Association recommends a cleaning and checkup every 6 months, but the Centers for Disease Control and Prevention estimates one-third of adults haven't visited a dentist in the past year. The ADA reports 40% of adults don't schedule appointments because they're concerned about the cost, but a healthy smile is more affordable than many people realize. 77% of Americans have dental insurance, which provides diagnostic, preventive, and restorative dentistry for reduced rates. Here are 4 tips to achieve a beautiful smile without breaking the bank.
1. Visit Your Dentist Regularly
You might believe you save money by only seeing a dentist when it's necessary, but that leads to higher dental expenses. Semi-annual cleanings and checkups stop common oral health issues from occurring, like tooth decay and gum disease. Research shows every dollar spent on preventive services can save up to $50 on restorative and emergency care.
Your dental insurance makes it easy and affordable to visit your dentist in Burlington. Your monthly premiums give you access to comprehensive benefits that cover 100% of the cost of preventive dentistry.
2. Don't Wait to Treat Dental Issues
Your policy includes an annual allowance to use toward restorative services. Your coverage can pay 50% to 80% of the cost after reaching your deductible, which is the pre-determined amount you must pay before using your benefits. Unfortunately, only 3% of Americans meet or exceed their annual limits.
Your policy expires at the end of the year. You will not be reimbursed for anything you don't use, and nothing carries over into the new year. You can stop throwing money down the drain by treating any dental issues early. You'll prevent them from worsening by maximizing your dental policy.
3. Choose the Right Dentist
You can visit any dentist who accepts your coverage, but your dental insurance recommends one that's in-network. They have pre-negotiated rates to lower the amount you'll pay for specific services, but it can limit your treatment options. An out-of-network dentist can provide more freedom. You can use your dental insurance to visit a dentist outside of your network; however, you'll need to pay the difference between their fees and your coverage's allowable amounts.
4. Don't Navigate Your Policy Alone
Dental insurance is a complex topic, but don't avoid your dentist because you're confused by your policy. Your dentist will work on your behalf with your insurance company to maximize your coverage.
A healthy smile isn't out of reach. There's still time to use your benefits before they expire. Now's the perfect opportunity to invest in a healthy, beautiful smile.
About Dr. James P. Kostas
Dr. Kostas earned his dental degree from the Tufts University School of Dental Medicine. As a member of the Academy of General Dentistry and the American Dental Implant Association, he delivers the highest degree of care. If you have questions about your dental insurance, contact our office today to speak with a member of our team.