Partials & Dentures – Burlington, MA
Invest in a Complete Smile Today!

At our Burlington dental practice, Dr. James Kostas can make your smile whole again with partials or dentures in Burlington. If you're ready to improve your diet, your speech, and your confidence, replacing your missing teeth can do all that! No matter why your teeth are missing, if you're looking for an affordable way to rebuild your smile, we can fit you for either a partial or full set of dentures.
What is Partial Denture?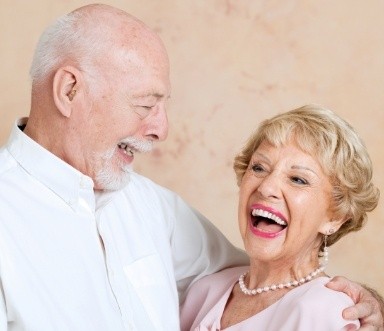 If you've lost several teeth but you still have a few healthy ones left, you may be a candidate for a partial denture. We take an impression of your mouth to recreate those you've lost. They are held in a gum-colored base that has a metal framework, so it can clip or clasp onto your natural teeth to hold it in place. Your prosthetic teeth are carefully crafted to match your real ones, so they blend in seamlessly when you smile.
What is a Full Denture?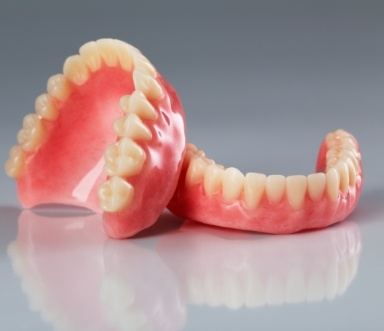 Although they have a bad reputation for looking and feeling fake, dentures now look and feel more realistic than ever. We take an impression of your mouth to create an acrylic base to hold your replacement teeth. The denture is held to your gum tissue using suction or an adhesive. You'll regain your ability to chew, speak, and smile without any concern; however, if you're interested in a more permanent solution, ask us how dental implants can stabilize your denture.
How Do I Get Fitted for a Denture?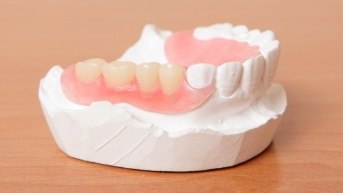 After a previous examination and X-rays, you'll return to our office to begin fabricating your new denture. Your dentist in Burlington will take an impression and molds of your upper and lower jaw to determine your bite. The color and size of your denture are determined before the information is sent to the dental laboratory to create a wax model.
How Do I Take Care of a Denture?
Your denture can last for 5 to 7 years before needing to be replaced. You can promote how long your new smile lasts by taking the time to care for it:
Clean it daily with a mild hand soap or denture cleanser.
Brush your denture with a nonabrasive toothpaste and soft-bristled toothbrush.
Don't forget to clean your gums and tongue.
Soak your denture overnight.
Visit your dentist regularly.
How Much Do Dentures Cost?
There is no set amount for dentures because their cost is determined by your individual treatment plan, such as how many teeth you're replacing. We provide you with a custom estimate during your initial consultation and discuss your payment options, such as using your dental insurance or CareCredit. We'll help you find the solutions you need to rebuild your smile.
Dentures FAQs
Do you still have questions about getting full or partial dentures in Burlington? When you visit our office for a consultation, we'll provide you with all of the details you need to feel comfortable and confident restoring your smile. We've also collected some of the most common questions that we receive from our patients below. If you don't see your concern addressed below, don't hesitate to call us!
How long will my dentures last?
With routine maintenance, your dentures can last for anywhere between five and seven years before needing to be replaced. This is because your mouth will continue to change shape over the years, which can alter the way they fit. Here are some tips to help you get the most out of your restorations:
Place a towel on the counter to set them on after you clean them to keep them from slipping and landing on the floor.
Remove and rinse your dentures after each time you eat.
Clean your gums and existing teeth after removing your dentures.
Brush your dentures with a soft denture brush and denture cleaner every day.
Soak your dentures overnight.
Schedule semi-annual checkups and cleanings with Dr. Kostas.
Will dentures affect my diet?
Going from an incomplete set of teeth to a complete one will expand your nutrition options and allow you to eat more foods. However, there are certain foods that you'll want to avoid eating with your restoration in, including:
Large pieces of tough meat.
Sticky foods.
Hard foods.
Foods that your teeth can't easily grind, such as nuts.
If you're in a position where you can't really avoid eating these foods, you can still eat them, just be mindful and try to only eat them sparingly.
Can I sleep with my dentures in?
We don't recommend sleeping with your dentures in your mouth, because it's important to soak them every night while you sleep to allow them to maintain their shape (this doesn't apply to partial dentures). The moisture keeps them from shrinking and incorrectly fitting in your mouth, which allows them to function properly and be more comfortable.
How do I use denture adhesive?
If you're using a denture adhesive cream, it's important to clean and thoroughly dry your restorations before starting the process of applying them to your mouth. Place small dots or strips of adhesive on your dentures, making sure not to place it too close to the edge. Position your dentures firmly in place over your gums. If the adhesive oozes out, this is a sign that you've used too much. One application should be enough to last you through the entire day.
Schedule an Appointment Today!
You don't need to live with an incomplete smile. We can replace your missing teeth with partials or dentures. Contact our office today to schedule your consultation.