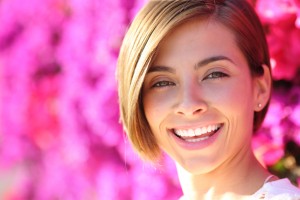 With spring and summer just around the corner, there are many big events taking place such as vacations and prom. Wouldn't it be great to sparkle and shine in your prom or vacation photos? Did you know that one of the easiest and most cost effective ways to give your smile a boost is to whiten your teeth? You'd be surprised what a huge impact whiter teeth have on your overall appearance. Teeth whitening in Burlington, MA will prepare your smile for summer, vacations, prom and any other big events that may be coming your way!
Over the Counter vs Professional Whitening
It may seem more convenient to purchase your whitening system at the grocery or drug store, however there are benefits to professional whitening systems that over the counter options can't offer. Whitening kits that you purchase at the store are not custom fit like the take-home whitening trays your dentist will make for you. This can lead to injury to your gum tissue or cheeks due to ill-fitting options.
The whitening gel that your dentist has access to is stronger than what you can purchase at the store. Whitening gel from your dentist typically has desensitizing agents in them in order to reduce the tooth sensitivity that can occur from whitening. This means less time spent whitening and more time spent smiling.
In-Office Whitening
At Complete Dental Care we use the Zoom! teeth whitening system. With this highly effective system, Dr. James Kostas and Dr. Justin Cardarelli can whiten your teeth in the comfort of their office in about one hour. Most patients achieve amazing results right away with Zoom!, and you can expect to leave our office anywhere from six to ten shades lighter.
Take-Home Whitening
Patients at Complete Dental Care can also choose a take-home whitening system. We will take impressions of your mouth, which we will use to create custom made whitening trays designed to fit snugly, and keep your gum tissue safe from the whitening gel. We will send you home with professional strength whitening gel based on your level of sensitivity. Most patients achieve the results they want after 12-14 days of whitening, sometimes less.
Take-home whitening allows you to whiten at your leisure based on your own schedule. If your teeth feel sensitive you can always take a day off. Take-home trays also give you the convenience of updating your smile at any time. If you have a vacation, wedding or other big event, just pick up some gel at our office and give your teeth a quick boost!
Whether you just need whitening to update your smile, or you're looking to change the appearance of your smile, the team at Complete Dental Care has got you covered! Our doctors are equipped to rejuvenate and restore your teeth so you can have the smile you've always dreamed of. Contact our office today to learn more about teeth whitening and cosmetic dentistry.