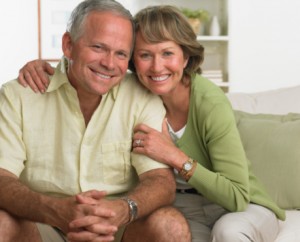 Dental implants are considered the gold standard of restorative dentistry. For edentulous patients, or those who are missing all of their teeth, dental implants can be used to support a full denture for a secure bite and a beautifully restored smile. At Complete Dental Care in Burlington, MA, Dr. James P. Kostas and his team believe that everyone deserves to enjoy the full benefits of a complete set of teeth. One of the ways that we accomplish this involves the use of implant-retained dentures.
The Advantages of Dental Implant-Retained Dentures
While removable dentures do help edentulous patients enjoy a more normal life following tooth loss, they can be unstable and uncomfortable. Ill-fitting dentures can slip when you speak or eat, and the feeling of a sliding prosthetic against your gums is far from pleasant. With traditional dentures, your diet is limited to foods that are manageable, and you may miss the freedom to enjoy your favorite meals and snacks.
Fortunately, Dr. Kostas has a proven solution that can restore your ability to eat, speak, and smile with complete confidence. Implant-retained dentures are secure, comfortable, and easy to maintain. Strategically placed dental implants are surgically fixed within your jaw, creating a solid foundation for your restoration. Your dentures are custom-crafted to complement your facial contours and will look completely natural.
Unlike many dental practices in the area, Complete Dental Care offers both the placement and the restoration of dental implants right here under one convenient roof. From the first stages of planning your treatment to the moment you see your new smile for the first time, we are your trusted partners in your journey toward improved oral health with dental implants.
Schedule Your Consultation Today
If you are interested in learning more about how implant-retained dentures can help you reclaim your smile and your life, please contact our office today to schedule a one-on-one consultation with Dr. Kostas. Our team sincerely looks forward to helping you achieve your oral health goals with the latest in dental technology and a genuine passion for patient comfort. Experience the difference our expertise can make in your smile. From our state-of-the-art dental practice in Burlington, MA, Dr. Kostas proudly serves patients from throughout the surrounding areas, including Bedford, Billerica, Woburn, and beyond.