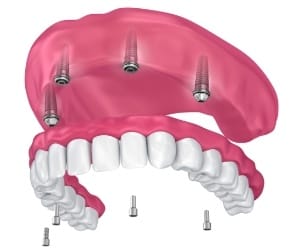 If you've experienced significant tooth loss, you likely choose dentures to replace your teeth because they are a tried-and-proven solution. Although you had high expectations, the look and function of your new teeth weren't quite what you had expected. Dentures have undergone several improvements over the years, but they will always have their limitations. Thankfully, you don't need to live with their disadvantages. You can enjoy the next best thing to your real teeth with implant dentures in Burlington.
Eliminate Slipping and Irritation
A traditional denture rests on top of your gum tissue and is held in place using suction or an adhesive. An implant denture differs because it's anchored to your jawbone using titanium posts. 4 to 10 implants are surgically placed into your jaw to replicate the roots. Your bone will fuse to them through a process called osseointegration to provide unmatched stability. You'll never need to worry about any slipping or irritation while regaining 70% of your natural biting force, so you can enjoy your favorite foods again, including steak.
Enjoy a Long-Term Solution
Dentures in Burlington are more durable than ever; however, they still need to be replaced every 5 to 7 years, which can get costly over time. Implant dentures have the potential to last for decades. They are the most reliable method to treat tooth loss with over a 95% success rate. By committing to your oral hygiene at home and visiting your dentist at least twice a year, you can enjoy a cost-effective solution that can last for a lifetime.
Lower Your Oral Health Expenses
When a tooth is lost, you can also lose as much as 25% of your jawbone's density within the first year because the area isn't being stimulated by the root. Since traditional dentures only replicate the crowns, they can't stop bone loss. Without adequate support, your facial tissues can sag. You might look years older than your real age from wrinkles and sagging skin.
Implant dentures are the only method to preserve your jawbone's density because the posts serve as roots. They'll stimulate your jaw to encourage new growth to support your facial tissues. You'll look younger while also avoiding any issues associated with decreased bone density. Although you might pay more upfront, you'll save money down the road.
Boost Your Confidence
Your new teeth will be carefully crafted to look just like your real smile. No one will notice they aren't your natural teeth. You can also overcome your social anxieties because you won't need to worry about your teeth falling out while laughing, eating, or speaking. You'll feel confident throughout the day knowing your smile looks and feels natural.
Don't live with the complications of a regular denture. Invest in the stability of dental implants today.
About Dr. James P. Kostas
Dr. Kostas earned his dental degree at the Tufts University School of Dental Medicine and is a member of the American Dental Implant Association. He has the qualifications and experience you can trust to treat your missing teeth. Contact our office today to see if dental implants are right for you.