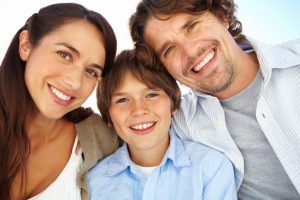 There is no shortage of dentists in the Burlington area, and that can make the choice for your family's dental team feel overwhelming. So how do you decide between several dental practices? It just takes a little informed research to ensure you are making the best decision for your loved ones' smiles. To find the right dentist in Burlington, look out for a team that offers plenty of experience, an array of services, and a commitment to continuing education.
#1: Significant Experience
Dentists add to their expertise and skill sets throughout their careers, so it makes sense that you want a dentist who has plenty of experience in the field. As you begin your search for a dentist, you will probably be browsing through many website. Click over to their "About Me/Us" page to learn about the doctor's background, including how long they have been practicing as well as any specialities they may have.
Dr. Kostas and offer a wealth of experience in comprehensive dentistry. Dr. Kostas has been practicing for over 27 years, and been practicing at Complete Dental Care since he was an intern in dental school.
#2: A List of Comprehensive Services
Make sure the dentist you choose offers a full list of services so that you don't have to go shopping for a new practice anytime you need or want something beyond general dental care. Choosing a dentist who offers a variety of cosmetic treatments can especially come in handy after you achieve total smile health — because your smile should look just as great as it feels! At Complete Dental Care, Dr. Kostas and offer professional teeth whitening, Botox and dermal fillers, invisible braces, gum recontouring and crown lengthening, and more. We provide our cosmetic treatments in addition to a variety of excellent preventive and restorative dentistry treatments.
#3: A Dentist Who Never Stops Learning
A commitment to continuing education is vital to the success of any dentist. The field is growing rapidly, and fast changes in methods and technologies require dentists to stay informed. Organizations like the American Dental Association provide opportunities for professional development as well as networking and informative materials to ensure members stay up-to-date and able to offer the very best care at every turn.
and Dr. Kostas maintain a strong commitment to continuing education. In fact, Dr. Kostas has achieved Fellowship status in both the Academy of General Dentistry and the American Dental Implant Association.
Come See Dr. Kostas and !
As you search for the very best dentist in Burlington, make sure you stop to check in with Dr. Kostas and at Complete Dental Care. Our team offers the experienced, full-service care you and your family want and deserve. Contact us to schedule an appointment today!