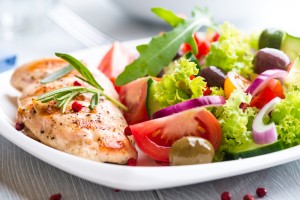 You already know that sugary foods can hurt your teeth, but do you know how?  For today's post, I want to explain—very briefly—how a poor diet can harm your smile. Knowing more about this process can help you make better choices when it comes to feeding yourself and your loved ones.
It starts with bacteria. We all have bacteria in our mouths—many different kinds. When some forms bacteria come into contact with foods high in sugar or starch, a chemical process producing acid and more bacteria begins. As these bacteria turn into a sticky, irritating substance known as plaque, your teeth and gums become susceptible to issues like decay and gum disease.
Brushing and flossing on a regular basis will help you control the amount of bacteria and plaque in your mouth. Professional cleanings and checkups at my Burlington, MA dental office will also help.
Outside of a good oral health routine, enjoying a balanced diet of fruits, vegetables, breads and cereals, dairy, and a variety of meats or beans is important. For more nutritional information and advice, visit ChooseMyPlate.gov.
You can also give my office a call. We're always happy to answer the questions our patients have. We would also be happy to schedule an appointment for you. We offer great dental care to patients from Burlington, Bedford, Billerica, and Woburn.